100 Days Of Love Movie Review Rating
Latest Telugu Movie 100 Days Of Love has been released today. 100 Days Of Love is a Dubbed Version of Malayalam Movie released in 2015. This movie comes under Romantic Comedy Genre. It is directed by Jenuse Mohamed who made his debut into Malayalam Film Industry. This film highlights Dulquer Salmaan and Nithya Menen as the main leads. The movie is filled with complete love and the emotional feelings on each other by which the film is dealt with its excellence.
100 Days Of Love Movie Review
100 Days Of Love is Set in Bangalore, elevating the city life. Dulquer and Nithya fit in the characters aptly. There is something remarkable about Dulquer Salmaan attitude and different style of screen presence. Check out 100 Days Of Love Movie Review Rating Story Public Talk 1st Day Collections to know whether to watch the film in theaters or not.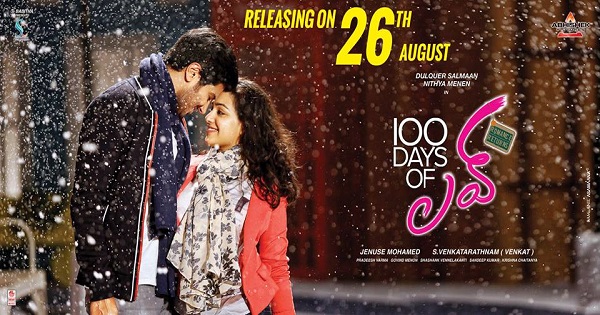 Jenuse Mohammed has chosen this particular script to bring up the pure romantic tale. The naturality in the dialogues and making values of the film is a key component that satisfies the audience. Dulquer coolly opening the door of the car which was broken looks stylish on the screen. The other actors have also performed well. Pradeesh Varma gleaming camera work is excellent. The effortlessly streaming editing works by Sandeep Kumar impress movie watchers. 100 days of love is a heart touching story which is simple and shows lot of emotions. Check 100 Days Of Love Movie Review Rating here.
100 Days Of Love Movie Public Talk
In spite of the fact that the movie begins slowly, it starts to get interesting as the story creates magic with the lead actors. At the film's climax, you will be happy with the way that, you are taken away by a romantic story filled with emotional feelings. Nithya Menen and Dulquer make perfect on screen couple. The other supporting actors Sekhar Menon, Vineeth and Praveena have played their roles splendidly. Read our timesalert.com 100 Days Of Love Movie Review Rating post your review below.
100 Days Of Love Movie Cast & Crew
Movie
100 Days Of Love
Director
Jenuse Mohamed
Producer
K. V. Vijayakumar
Written by
Jenuse Mohamed
Music
Govind Menon
Background Score
Bijibal
Star cast
Dulquer Salmaan
Nithya Menen
Cinematography
Pratheesh Varma
Edited by
Sandeep Kumar
Release Date
26 August 2016
Language
Telugu
100 Days Of Love Movie Story
Dulquer Salman played a male lead character named BKN (Balan K Nair) who was called loser by people surrounding him. Nithya Menen plays a character named Sheela, a young girl who trusts that life is about viewing in a practical way with common sense even it may be love. The story begins with a dialogue of Balan K Nair, saying that the movies do not have any good climax. He says that happy endings are impractical in reality. The story begins from that point and goes with a beautiful moment. All those beautiful moments starts with meeting Sheela, getting to be colleagues who make friendship with each other eventually falling in love with each other. Check 100 Days Of Love Movie Review Rating from our site.
100 Days Of Love Movie Review & Rating : 2.5/5
100 Days Of Love Movie Public Talk Video