10 film producers signed a memorandum stating, we stand solidly with the students of FTII and are resolved to not give them a chance to bear the whole burden of their dissents. They have mounted a notable battle and we ask others inside of our clique to approach and convey this protest forward.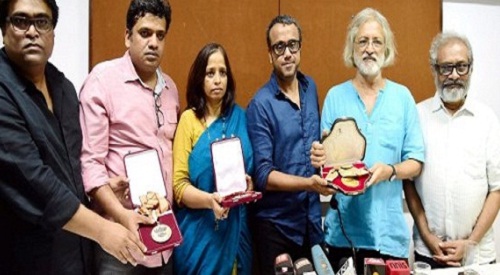 The improvement came hours after three noticeable graduated class of the Film and Television Institute of India (FTII), Pune, declared that they would give back their national awards to dissent against "a climate of prejudice" in the nation in most recent couple of months. They are Vikrant Pawar of Maharashtra, Rakesh Shukla of Uttar Pradesh and Prateek Vats of Goa. In a marked articulation discharged in a public interview at night, they asked the Central government to "direly uncover its dedication" to secure the flexibility of statement of every resident.
I never thought I would ever give back my grant. In the event that the FTII's ethos are secured and reinforced, not just should I consider taking back my grant, however will distribute 10 different honors with bliss, Banerjee said.
Guaranteeing that the choice was not politically persuaded, he said, it was "propelled by my still, small voice. I am returning it to attempt and raise open consideration.
Patwardhar said he is more apprehensive today than amid the Emergency days, on the grounds that now there are meandering packs hoping to do brutality against any individual who stands up.
"We speak to the general population, not the government . We need to be gathering of the enlivening that is going on around the nation with researchers, artistes and essayists giving back their distinctions, Patwardhan included.
Nishtha Jain, a FTII former student, said the national grant is still not debased and holds up an elevated expectation, which is the reason it was excruciating to return it.
She included this was the start of my dissent, not the end. We need to consider more smart methods for protests.
The filmmakers who won awards for their prominent creations are:
Dibakar Banejee – Khosla Ka Ghosla – 2007, Oye Lucky, Lucky Oye (2009);
Anand Patwardhan – Bombay Our City (1984);
Paresh Kamdar – Rasyatra (1995);
Nishtha Jain – Gulaabi Gang (2014);
Kirti Nakhwa – Lost & Found (2008);
Harshavardhan Kulkarni – Lost & Found (2008);
Hari Nair – Sham's Vision (1997);
Rakesh Sharma – Final Solution (2006);
Indraneel Lahiri – Aamar Katha, Story of Binodhini (2014);
Lipika Singh Darai – Gaarud (2009), Eka Gachha Eka Mainsha Eka Samudra (A Tree A Man A sea – 2012), Kankee O Saapo (Dragonfly and Snake -2013;
Vikrant Pawar – Kaatal (2012);
Prateek Vats – Kal, 15 August, Dukan Band Rahegi – 2010; and
Rakesh Shukla – Donkey Fair (2013).