On Saturday Indian Idol Junior honored Odia girl 'Ananya Sritam Nanda' as its winner where this musical talent gained enormous votes from audience across country. 13 year old protean singer achieved ultimate trophy beating chennai's Nithyashree Venkataramanan and (Assam) Tezpur's Nahid Afrin in finale round in this second season of reality show.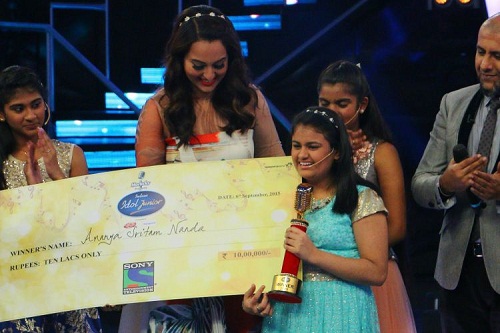 Steady performance with ideal presentation of notes with her spellbinding voice through the end of the show helped her successful win in this edition. Ananya won Rs 18 lakh, Yamaha bike besides gift hampers worth Rs 3 lakh. She said,
"I had never thought that I would enter the top three in the show. It's really a dream come true."
Her father Prasanna Kumar said,
"Ananya bagged this award due to God's grace, prayers and blessings of well wishers. We are grateful to all those who voted for Ananya."
Ananya who is 9th class student of DAV Public School in Pokhariput begin learning music at four years of age and achieved many awards. From last eight years she learned classical music from Guru Chitta Ranjan Pani and from Santosh Kar she learned light music and semi-classic.
Pani said, "She is a gifted child with an amazing voice. At the same time her sincerity and interest in music is also remarkable. This is one step of her success and with proper training in classical music she has long way to go and many accolades to achieve in future."
Ananya won title of 'Best Singer of The Day' many times during the show.  Her fan page in Facebook reached over 27,000 likes. She has a fan club at her school and the entire school is feeling proud of her. Even school wished her success distributing push cards to students and parents to support her by voting.