On Thursday the North East Coast Guard Region in Kolkata received more teeth with commissioning of the Fast Patrol Vessel (FPV) ICGS Anmol at Kidderpore docks. It is accountable for security along the shores of Odisha and West Bengal. As indicated by K R Nautiyal, CG Region (NE), IG and commander, he now has 14 surface resources, including hovercrafts, ships and six aircrafts under his summon to watch the Exclusive Economic Zone (EEZ) along the two states.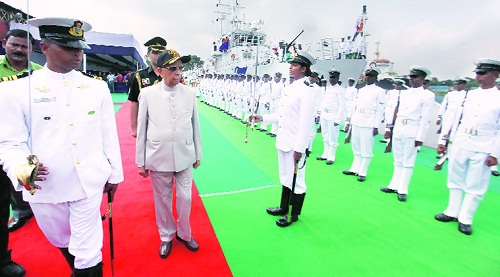 ICGS Anmol is thirteenth in the series of 20 FPVs being assembled by Cochin Shipyard Ltd for the Coast Guard. As per officers, it is a best in class vessel with most extreme rate of 35 knots. Outfitted with a anti-aircraft gun and most recent communication and navigation gear. The ship can carry complete surveillance, ban, search, rescue and medicinal departure. The basing of this ship at Haldia uncovers the Center's worry with respect to powerless areas in the Bay of Bengal region. Cochin Shipyard Ltd managing director and Chairman, cmde (retd) K Subramaniam, said that ICGS Anmol was conveyed 19 days in front of schedule.
Nautiyal said that after US, Japan and South Korea, the Indian Coast Guard is the fourth biggest on the planet that has received approval for an expansive training ship and seven Offshore Patrol Vessels (OPVs) with on load up helicopters. Soon, the force will be getting observation aircrafts and medium, heavy lift helicopters. The CG Region (NE) will get some of these at the appointed time. West Bengal governor Keshari Nath Tripathi said Because of India's economic development, maritime trade has expanded, the fundamental difficulties are Search and Rescue (SAR), smuggling and terrorism. Any coastline is helpless against attacks by non-state performers. Our electronic surveillance framework is as of now set up. This ship will help in reinforcing security along the coasts of West Bengal and the nation.