On Friday the Election Commission braced a ban on production of two controversial advertisements printed by BJP in Bihar where assembly polls are ongoing. In an empathic counseling to Chief Electoral Officer of Bihar Ajay Naik, the Commission has requested that he ensure that the two advertisements are not published in any daily paper or journal from Saturday onwards till the election procedure is over.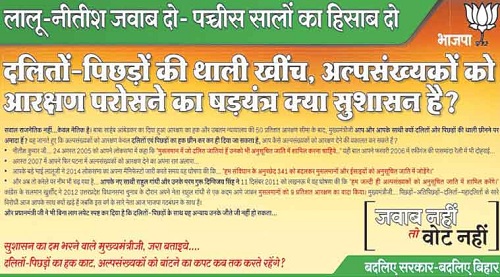 One of the advertisements asserts that RJD supremo Lalu Prasad and JD (U) leader Nitish Kumar are planning so as to grab the plate of Dalits to transfer the share implied for Dalits and EBCs to minorities. Another advertisements manages 'vote ki kheti' or vote bank politics. It alleged that RJD, JDU and Congress leaders are offering sanctuary to terrorists to pacify a specific community for votes.
Sources in the poll guard dog told columnists that the poll authorities in the state will likewise check whether the name and details of the printer and publisher of the ads have been imprinted on the substance of it according to the procurements of Section 127 A of the Representation of the People Act. The sources said the advertisements have the potential of dividing people on caste and religious lines which is against appointive laws and the model code. Prior in the day, the Grand Alliance had moved the EC against the advertisements. The state CEO has additionally given a report to EC in such manner.