The London police arrested twenty protesters after a Sikh show outside the Indian Embassy in the British capital turned fierce, abandoning one policeman harmed. Yesterday many demonstrators from a group called 'Sikh Lives Matter' had accumulated protesting the affirmed police fierceness against Sikhs in Punjab. At first a peaceful exhibition, the protest turned brutal compelling police to cordon off the region around the Indian mission in central London.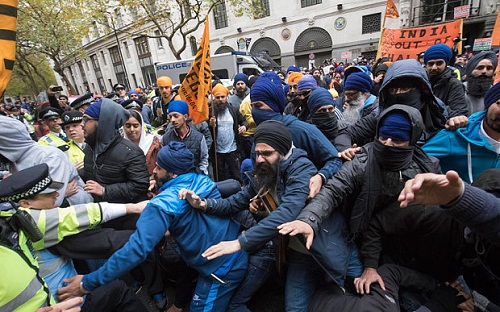 The police said they knew about an arranged demonstration at Indian High Commission however were compelled to make an action as the protesters blocked streets creating interruption. The Metropolitan Police Service in an announcement said, it was at first a tranquil protest the demonstrators hindered the roadway at the Aldwych and brought about huge interruption to the focal London street network. Police contact officers endeavored to arrange with those present, to maintain peaceful protest and minimize the interruption to people in general.
Amid the altercation one cop endured a head damage and was taken to hospital. No other persons were accounted for to be injured. There have been 20 arrests the greater part of which have been for affray. A spokesperson of Sikh PA Jasveer Singh Gill who was at the incident said PA who was available at the spot said that the purpose of the protest today was to bring issues to light and present the Indian authorities that Sikhs of the UK stand in solidarity with the community in the Punjab who are enduring on account of Indian authorities.