Hours after a special court giving a clean chit to former Telecom Secretary Shyamal Ghosh and telcos Bharti Airtel and Vodafone in spectrum allocation case a war of words have broke out between Finance Minister Arun Jaitley and Former Telecom Minister Kapil Sibal.
Kapil Sibal has denied that he had played a role in charge sheet filed in December 2012 by CBI in Spectrum case.
Jaitley fired aggressively saying "officers are guilty of fabricating charges against an honest civil servant and others….there is no doubt that the chargesheet was filed at the behest of Kapil Sibal, the Telecom Minister in the UPA government."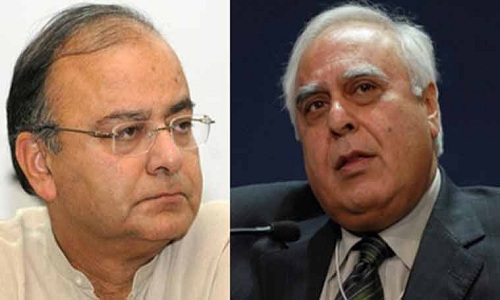 Sibal hit back at Jaitley telling him to concentrate more on his work as a minister and asked him not to attribute his past experience with CBI in managing and guiding it into others matters. He also said that it is not necessary that what he does has been replicated by others as well.
In the judgement, the CBI special court has criticized the investigation agency for fabricating the facts while filing the chargesheet. The court has also ordered the CBI director to conduct enquiry and take action on them as per law.
Jaitley also said that the charge sheet was filed on the command of Sibal, Telecom minister in UPA Government and questioned the role of a retired judge who was chosen by Sibal and asked him to excavate an NDA Scam.
The 2002 case in which CBI has alleged that the Telecom companies Bharti Airtel, then called Bharti Cellular, Vodafone India, then called Hutchison Max, and Sterling Cellular, now a Vodafone company were allotted frequencies more than 6.2MHz, on collaboration with  Ghosh.