On Friday people in the six Naxal-pervaded districts turned out in expansive numbers to cast their votes in favor of peace in the second phase of progressing Bihar Assembly elections opposing the diktat of the Maoists, who has unleashed a rule of terror previously. Three percent more than the 2010 Assembly elections ie., 55% voters practiced their franchise in the 32 bodies electorate spread over Jehanabad, Gaya, Kaimur, Arwal, Aurangabad and Rohtas districts in the midst of extensive security plans.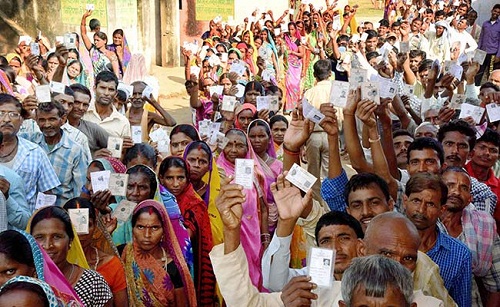 Despite the fact that 23 of these voting public were viewed as delicate because of the Naxal risk, voters particularly women and youth and chose to convey a reasonable message by casting their votes without fear. Women dwarfed men by around three percent in casting their votes in the first phase of polling held on October 12. While 57.5 percent women cast their votes, just 52.5 percent male voters practiced their franchise amid the day. Additional Chief Electoral Officer R Lakshamanan said Kaimur recorded the most extreme 57.86 percent in the second stage while Aurangabad had the slightest 52.50 percent polling. Different locale such as Rohtas, Jehanabad, Gaya and Arwal recorded 54.66, 53.21, 56.94 and 55.54 percent polling individually.
Not less than 86.13 lakh voters, including 40.19 lakh women were enrolled in the 32 voting constituencies which went to polls on Friday. A 104-year-old woman was the most oldest person to make her vote in Bhabua constituency of Kaimur region. Union petroleum priest Dharmendra Pradhan said the BJP would have a greater part all alone to shape the following government in Bihar. Opposition leader Nand Kishore Yadav said the NDA was driving 2-0 after the second phase.