What would you think is the age of a person living in present situation to do works own his own without the assistance of family or friends, No one could say the answer right. Out of Advancement in technology we are becoming very inactive and lacking energy or alertness. Our 9 to 6 working routine in offices where we are immobile lacks the common requirement of physical activity. At Certain age we are moving towards a situation where we couldn't perform our activities of our own. People form Older Generation used to work in fields which make them physically and mentally active. Such Persons Even at their older ages will live on their own without any help. All this is because of their practices.
90 Years Old Women Still Works In Fields
We See many people being Lazy and just not doing any thing is their daily routine. For all those who are in such categories here is the story of an 90 years Old Lady who Works of Fields Till Date and lives all by her own.
Also Read : 70 year Old Vegetable Seller Worked As Brick Layer To Build Hospital
Here is the photo of an Old Generation Energetic Lady Still enjoying bicycle riding. She is form an village called Kundapur of Karnataka State. Her day starts five in the morning, she rides her bicycle to do work in her field till evening. She collects grass for buffaloes maintained at her house and returns home after day long work. We could very rarely come across such people with this level of potentiality.
Story Of 90 Years Old Women Who Still Works In Fields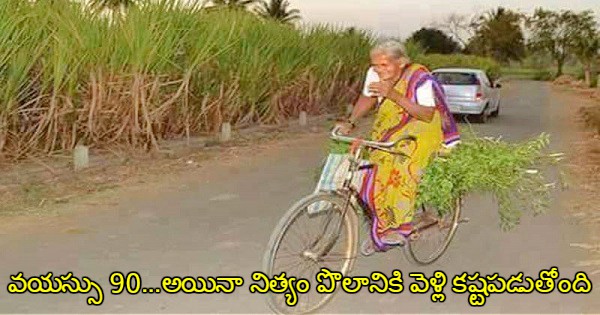 We should for sure take her life as an example, by following some of the aspects. She is setting an example to all those who are lazy and searches for some one to do their works. Individuality is her main theme and dependency is what should avoid every time and mainly we need to grasp an inner meaning that age is not an criteria to be independent. We need to work till we could.