Unique Identification Of India Authority on today said that 93% of the adults in the country voluntarily possess aadhaar card.
"In a recent update, it is found that 93 per cent of the adult residents in India voluntarily possess Unique Identity – Aadhaar," UIDAI said in a press statement.
Aadhar saturation among adults in UIDAI assigned states and Territories is about 98% while 76% of adult population is covered in Registrar General of India assigned states.
It is said that UIDAI is concentrating on child enrolment to achieve universal Aadhaar coverage, additionally wiping up remaining.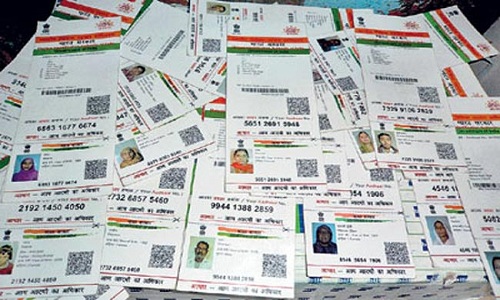 Till now UIDAI have generated more than 92.68 crore Aadhaar cards starting from the year 2010. However in the website it is scored as 92.86 crores.
UIDAI has given the authority to issue Aadhar cards for 24 states/UT , out of which 16 states have 100 % adult population saturation with Delhi on the first position with 128% followed by Himachal Pradesh (111 per cent), Andhra Pradesh and Telangana (111 per cent) and Punjab (110 per cent).
Aadhaar is a unique identification which can be generated for free of cost, any individual irrespective of their age and gender  can enroll for Aadhar card. The only eligibility for any person is that they belong to the citizen of India and should satisfies the verification process placed by t he UIDAI and can apply for it in a voluntary basis anywhere in the country.
The five states/ Union Territories such as Andaman and Nicobar Islands (97 pc), Karnataka and Madhya Pradesh (96 pc each), Uttarakhand (93 pc) and Uttar Pradesh (91 pc) have more than 90% saturation of Adult population and the three states Gujarat (89 pc), Daman and Diu (82 pc) and Bihar (80 pc) have above 80 % of saturation.
In other 12 states which are covered by RGI has overall 76% of saturation with Lakshadweep (109 pc), Dadra and Nagar Haveli (103 pc), West Bengal (89 pc), Odisha and Tamil Nadu (88 pc each), Manipur (65 pc), Nagaland and Jammu & Kashmir (63 pc each), Arunachal Pradesh (50 pc) and Mizoram (46 pc).
In two states like Assam and Meghalaya a low saturation is registered for some local issues.