Aamir Khan has under gone strenuous transformation to enact the role of wrestler 'Mahavir Phogat' in 'Dangal'. Mahavir's daughters Babita and Geeta have visited Aamir Khan in Mumbai. The actor showed his interest to meet them despite of hectic movie schedule and has taken care of their stay at Mumbai. Phogat sisters have interacted with Aamir khan and said their father's life has inspired them.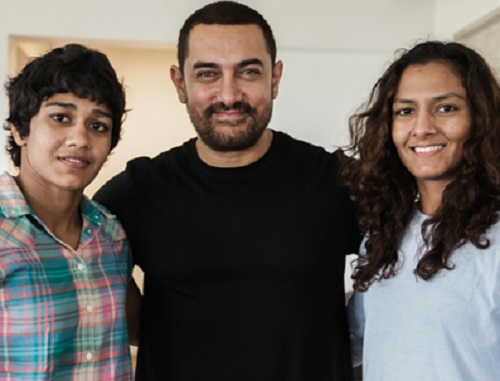 During the 2010 Commonwealth games Geeta Phogat has won gold medal in Women's wrestling in 55 kgs category. Geeta and Babita has both won Bronze medal at the World Woman's Wrestling Championship held at Canada. Aamir khan has increased his weight and all beefed up for enacting Mahavir's role in 'Dangal'. The actor reportedly spoke to Mahavir's daughters to sense his personality before filming the movie. Bollywood Mr.Perfectionist has done it again by analyzing the real life incidents of the person to give his best in the movie.
They had a long conversation with Aamir regarding their sporting career and how they were born and brought up and their living style back at home. Phogat students are eager to find out how well the movie is going to turn out. Nitesh Tiwari is the director of 'Dangal' and the story is based on the real life incidents of wrestler 'Mahavir Singh'.