Arvind Kejriwal's Government has invited Renowned Pakistani ghazal singer Ghulam Ali to perform concert in the country's capital after his programme has cancelled in Mumbai after receiving threats from Shiv Sena.
Delhi Law, art and culture Minister Kapil Mishra has invited Pakistani Singer through a tweet saying "Sad that Ghulam Ali is not being allowed in Mumbai, I invite him to come to Delhi and do the concert. Music has no boundaries," Mishra wrote on Twitter.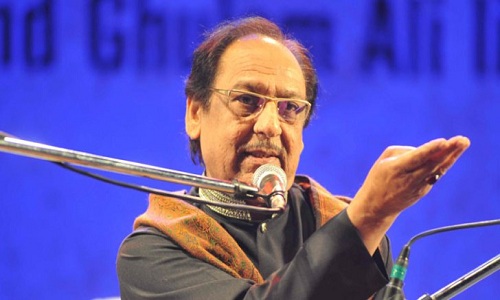 Ghulam Ali was schedule to perform a concert in Mumbai's Shanmukhananda Hall as a tribute to Jagjit Singh on his fourth death Anniversary. But Shiv Sena, the ruling alliance in the state has written a letter to the Hall's administration to cancel the programme.
"We are completely against any form of cultural ties with Pakistan. The country is against us and kills our soldiers, so there's no point why we should let their singer perform here. If the concert is not called off, we will protest in our own style," said Akshay Badrapurkar, general secretary of Chitrapat Sena.
The organizers of the event have cancelled the event after meeting Uddhav Thackeray according to a source, in spite Maharashtra CM Devendra Fadnavis's has requested not to drag a respected artist in to the India-Pakistan Politics. He said the actions of Shiv Sena are very unfortunate.
While responding to the happenings Ali had said the programme was not cancelled from his end.
"Atmosphere is not conducive for me to perform," he had said, adding, he wants Indo-Pakistan ties to improve."I'm not angry, but I'm a bit hurt and sad. But there are can be sad moments in love as well. I don't know why such situations and conflicts arise. We have performed in Mumbai on several occasion before and people have always showered their love on us. Whenever such news come out, it causes commotion in society"
He further added that if his fans call him with love, he will go and perform.