On Tuesday, Telangana Anti-Corruption Bureau (ACB) officials registered a charge sheet in local court almost after two months the case filed in scandal of cash-for-vote which involve two TDP MLAs. Charge-sheet was filed against Mr. Revanth Reddy, Mr. Rudra Uday Simha and Mr. Harry Sebastian who were accused to bribe a nominated MLA, Elvis Stephenson to cast vote for TDP candidate in MLC election held on 2nd June.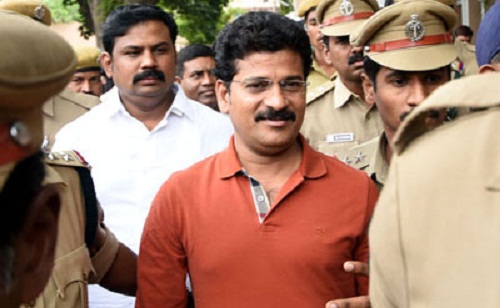 ACB officials assumed to register a supplementary charge-sheet in the case against fourth accused person Mr Jerusalem Mathaiah, who secured an order from High Court delaying his arrest. ACB investigators are still to discover his portion of involvement in the scandal and trying to present him to court according to the results. According to ACB special judge court, 39 witnesses have been interrogated through this 25 page charge sheet against Uday Simha, Sebastian and Revanth Reddy.
After obtaining evidence and verifying the allegations produced by Mr. Stephenson that the money was offered from TDP in order to make his vote in election in support to Vem Narender Reddy, the ACB firm issued an FIR while Mr. Reddy alleged that he was being implicated. Media came up with two video clips reportedly showing Mr. Reddy offering money to Mr Stephenson. ACB took him to custody and continued their inquisition recording the mobile conversation between Andhra Pradesh Chief Minister Nara Chandrababu Naidu and Mr. Stephenson. Mr. Naidu narrating this as conspiracy claiming that Telangana Government tapped the phone calls of main administrators in his government. ACB arrested another TDP MLA Sandra Venkata Veeraiah besides Vem Narender Reddy, but they are yet to take charge against Veeraiah.