All India Majlis-e-Ittehadul Muslimeen (AIMIM) president Asaduddin Owaisi on Tuesday expressed his feeling conveying spiritual adviser Rashtriya Swayamsevak Sangh and BJP where his No.1 enemies. Earlier he up-roared with deciding categorized candidates in Muslim- dominated area Seemanchal for Bihar Assembly election polls.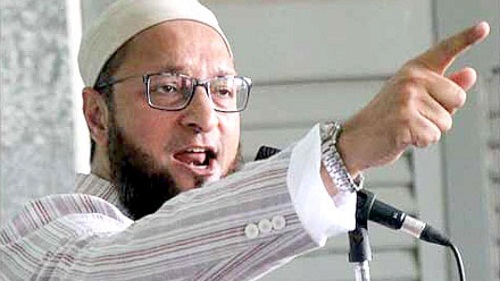 Rejecting the charge of his party presence in the melee which might divide secular votes in the region and asset BJP benefiting it so he said that the decision to stop them is their cooperative responsibility. Mr. Owaisi said, 'It is our collective responsibility to stop them.'
In a private news programme he stated,
"Both the BJP and the RSS are my political enemy No.1, and it's our collective responsibility to stop them. But if someone says only I can stop them [the BJP and the RSS] and all should come under their suzerainty, it will not be possible."
Making an indirect reference to both Samajwadi Party leader Mulayam Singh and RJD chief Lalu Prasad Mr. Owaisi said there were few leaders who criticize Prime Minister Narendra Modi from political manifesto but make their invitation to him for weddings to visit their homes and engage in family photo shoot.