Akhil Akkineni, Shriya Bhupal Engagement Photos
The hottest topic in Tollywood is the love affair of Akhil Akkineni with a fashion designer Shriya Bhopal. Their love had moved to the next stage. Both their family members agreed to their love and are busy with the engagement event. Akhil and Shriya are going to be engaged on December 9th, 2017. Akhil Akkineni is in full of joy about his love moving to next state of relationship very soon. Apart from this, he is eagerly waiting for the launch of the second movie directed by Vikram Kumar.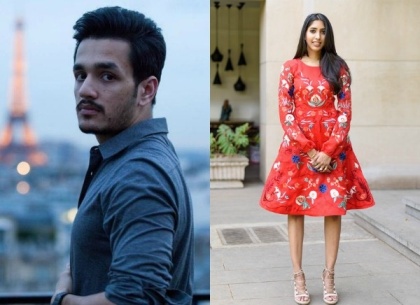 Akhil Akkineni, Shriya Bhupal Engagement Images
Akhil Akkineni, the younger son of great actor Nagarjuna Akkineni and grandson of late Nageshwara Rao Akkineni, is going to the betrothal with Shriya Bhupal who is the daughter of industrialist Shalini Bhupal and granddaughter of GVK Reddy. Earlier Nagarjuna has announced the Akhil's engagement with Shriya. But today the invitation for Akhil and Shriya engagement card is out on social media. One can check the engagement invitation card of Akhil and Shriya below.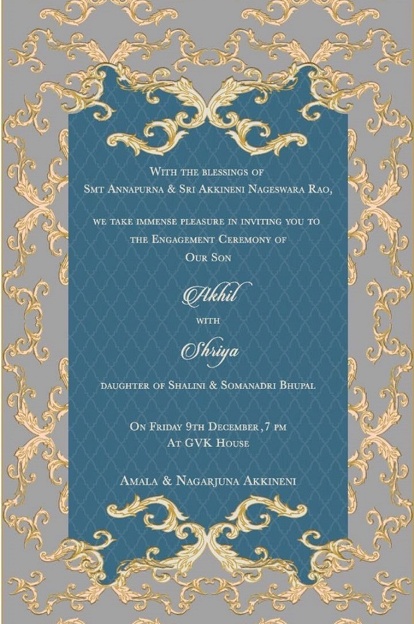 Akhil Akkineni, Shriya Bhupal Engagement Photos
The invitation card for engagement of Akhil Akkineni and Shriya Bhopal shows that the event is on 9th December 2016. The venue for this event is held at GVK house Hyderabad by 7:00 PM. This engagement ceremony is attended by close friends and relatives of GVK Reddy and Nagarjuna Akkineni. After completion of this ceremony, both the families decide the marriage date and venue. According to some reports marriage of Akhil Akkineni and Shriya Bhopal will be held next year in Summer. They are also planning this grand wedding in Italy.
Akhil Akkineni, Shriya Bhupal Marriage Date 
Besides Akhil's engagement and marriage, Naga Chaitanya the elder son of Akkineni Nagarjuna is in love with Tollywood actress Samantha. Recently Naga Chaitanya had revealed this in promotions of Premam Movie. But the engagement and marriage date was kept secret. Akkineni Akhil's engagement ceremony is going to be held on December 9th at 7 Pm in GVK house. This event is going to be the grand one for all Akkineni fans. Besides this Akhil is also waiting for his second film to launch and the director for that film is Manam movie fame director Vikram Kumar.