Today we are introducing Akrit Jaswal an extraordinary kid who performed an surgery at an tender age of 7 and make an record of the world's youngest surgeon who performed a surgery successfully. Born in Nurpur a small town in Himachal Pradesh have shown an IQ of 146 which is the highest IQ shown by any boy of his age in India. He performed this successful surgery on a eight year girl whose fingers merged together due to severe burns.
7 Year Old World's Youngest Surgeon From India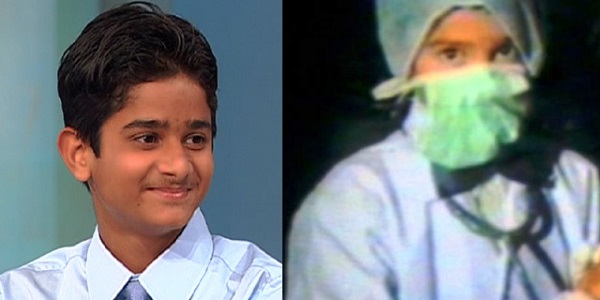 This Talented Kid shown his extraordinary skills right from his birth, At 10 months he was able to walk, and could read and write by the age of  two. When he was five he was able to read the  novel of Shakespeare later he developed a passion for Science and anatomy. The local doctors after noticing his interest, some times allowed him to observe Surgeries. After performing the surgery on 19th November 2000 he started gaining reputation as medical genius.
Akrit Jaswal The 7 Year Old World's Youngest Surgeon
Sponsored and Mentored by then Chairman of Secondary Education in Dharamshala Mr. B.R.Rahi he studied for a Science Degree at Chandigarh. He also made a record as the first kid to be accepted by an Indian University at that age. He has completed Bioengineering at the age of 23 in IIT Kanpur. After knowing about this exceptional medical marvel the Imperial College of London have invited him to spend an two week time to showcase in intelligence in Super Mechanisms , Genes and Therapies to help in cancer research. Akrit Jaswal is focused on finding a cure for cancer based on his theories on oral gene therapy.