Akshay Kumar in Konchem Touch Lo Unte Chepta 
Tollywood Film Industry has not witnessed any Bollywood Celebrities Promoting their films in Telugu Tv shows. But shockingly it has happened now. Now here is the hottest news, Bollywood Hero Akshay Kumar went to Pradeep's konchem Touchlo Unte Chepta (KTUC) show which airs in Zee Telugu. This is truly a festive day for Zee Telugu and the entire team of KTUC. Akshay Kumar was in KTUC show to promote his upcoming film Rustom. The images of Akshay kumar and Pradeep in KTUC Show were becoming a web sensation. We have no idea when the episode will be broadcasted but the shooting part has been completed today. Akshay kumar is accompanied with Ileana D'Cruz to promote their film.
Akshay Kumar To Shine In Telugu TV Show 
Pradeep Machiraju is one of the leading male anchor with a great fan following equal to any film hero inspite of just being a Television Show host. Anchor Pradeep Machiraju began a television show titled Konchem Touch Lo Unte Chepta from recent years. He was the show host and producer as well.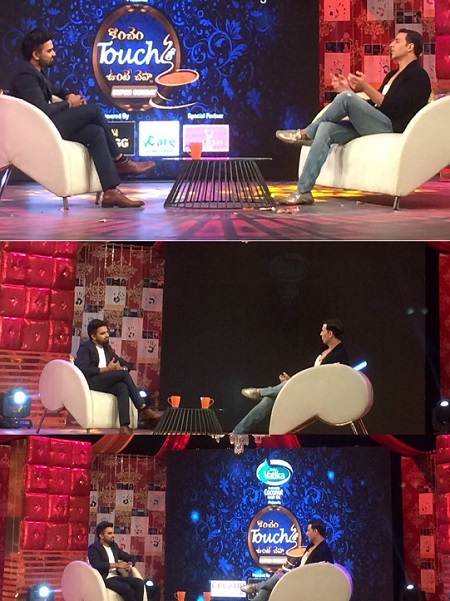 Akshay Kumar Konchem Touch Lo Unte Chepta Full Video
Pradeep welcomed many numbers of Tollywood celebrities. The centre theme of KTUC show is to entertain the audience in the meantime giving few sweet surprises to celebrities bringing up their real life incidents alive. Recently he even welcomed industry top celebrities like Anushka Shetty and Super Star Mahesh Babu. But this is for the first time in Telugu TV history Pradeep welcomed Bollywood most popular Akshay Kumar.
First Ever Bollywood Celebrity In Tollywood TV Show
Let's wait for Akshay Kumar Konchem Touch Lo Unte Chepta Episode Telecast soon as ahead in the Television. Truly Akshay Kumar appearing on Telugu Television Show is not a simple thing, so lets wait for it. This week Telugu Music Director Devi Sri Prasad Episode will be broadcasted on Zee Telugu Channel.