Fire accident took place on the sets of 'Singh is Bliing' where Bollywood actor Akshay Kumar survived after a difficult stunt went wrong. This 47 year old actor mentioned it as a freak accident through his tweet in Twitter. This might be a class on the importance of going through dangerous stunts particularly in right way.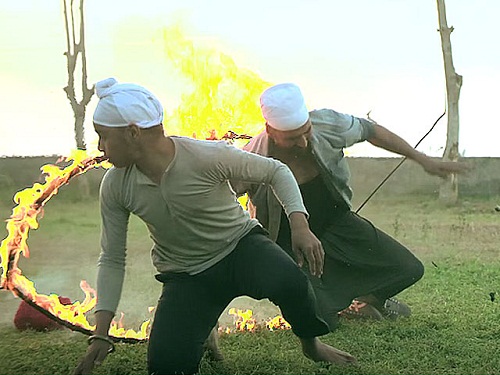 This accident occurred during a shoot sequence while filming the song 'Tung Tung Baje' where Akshay need to jump through flaming loop by which he put himself in harm. A video was uploaded in YouTube catching this fearsome moment by Grazing Goat Pictures which is Akshay's production house. After completing fiery ring rehearsal safely, Akshay's ankle came out from the loop down on him with fire.
Khiladi actor is lucky enough to escape from the accident after he caught fire during the shoot. At recent promotions of his film 'Brothers', Akshay said he was stuntman first next an actor. So now he is performing his stunts with flair way.
When performing this stunt, firm vigil was placed around so that the actor must not endure any injuries or blows during shoot. But sadly Akshay stumbled in one of the stunt where the movie is soon going to hit the theaters. Anyways he survived without any major injuries. As per reports, in spite of accident superstar continued his shooting to finish the song and performed stunt himself.
The actor took it to Twitter saying,
"Survived a freak accident on the sets of @SIBTheFilm while shooting for the song #TungTungBaje-AKSurvivesAnAccident …"