Online retailer Amazon is reportedly planning to launch a new 6-inch tablet for the holiday season with a rock-bottom price of $50, according to Wall Street Journal.
According to WSJ there are no details regarding specifications except about that it is having mono speaker, the report says the price is much less expensive than company's Kindle and Fire HD.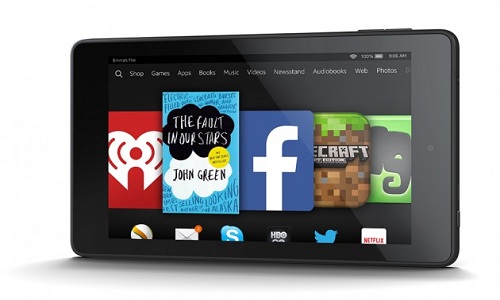 The online retail giant always plays a margin game with slashing the prices of the tablets even lower than they are. Amazon's 6-inch tablets presently start at just $79 for Kindle and $99 for the Fire HD.
Amazon Readying $50 Tablet
The price tag for Kindle $99 includes advertisements, but it is not clear whether $50 variant will include ads.
Amazon just wants to woo its customers with the lowest cost, but 50$ price mean the standard of the device would be much lesser in terms of quality, durability, and battery life.
"Mr. Bezos had set an internal goal of the $50 price tag for versions of both the Fire tablet and Kindle e-reader, viewing the rock-bottom prices as a crucial lure for a more cost-conscious group of buyers, the people said. But the e-reader screen technology from its vendors ultimately proved too expensive to drop the retail price", the people said.
The development of this tablet has been outsourced to overseas firms such as Shanghai Huaqin Telecom Technology and Taiwan's Compal Communications to reduce the cost of the production.
Amazon also is planning to release its other two 8-inch and 10-inch screen tablets. There was rumors swirling that the company is giving up producing smartphones and tablets even though they are on lineup.