Amitabh Bachchan has gifted helmets for Mumbai Traffic department personnels. Big B has shared his experience saying, whenever I visit abroad, I conclude an opinion about that place only after looking traffic management there. And when I sense that traffic is well managed and everything is fine, I feel a certain ray of due respect towards that nation. I formidably expect that whenever someone from other nations land in India, they too should feel the same as far as my concern. I truly expect that we will soon see those days with Mumbai Police and Traffic Departments objectives.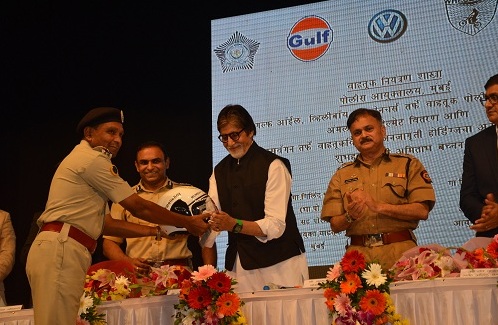 Amitabh Bachchan has also launched public awareness hoardings to enlighten Mumbai citizens. Mr. Bachchan stated, One cannot leave social responsibilities on the shoulders of police force itself. Everyone has to seek the issue as personal and take an initiative to improve traffic system in India. Whenever I travel in the city if happen to see anyone violating traffic rules, I stop my car reach to that person and explain the necessity of following traffic rules without scolding them.
Rather than confronting the individual who is unaware of traffic rules, one can explain a few words describing the necessity of following them. Some times I face difficulty as people are more interested in getting signed their autographs and having selfies with me rather than listening to what my intention. I am ready take thousands of selfies but do follow traffic rules. Amitabh Bachchan was recently appointed as brand ambassador for tiger conservation in Maharashtra.