Bollywood star Amitabh Bachchan is proud of his granddaughter Navya Naveli Nanda's as he was pleased to see youngster playing piano with excellence and beauty. Navya is the daughter of Amitabh's daughter Shweta and husband Nikhil Nanda, Delhi based businessman. This 72 year old actor was impressed to see the youngster playing piano so perfectly with absolute bliss.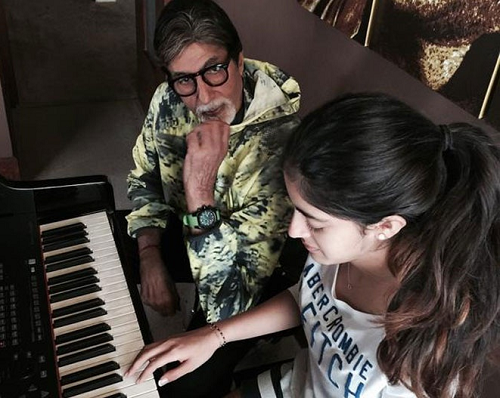 Amitabh Bachchan has taken over the internet to share about her grand daughter's talent. Big B shared pictures of him sitting beside Navya Naveli and enjoying her performance.
Amitabh shared a post on his blog,"Look what took its place the entire day… The life to witness the gift of a grand daughter, of her accomplishments, of her talents… That is more than what many wish and possess".
Amitabh adds, "And yes the inner joy of admiration for Navya as she surprises us all with her hidden talent… The music and the keys of the piano, untrained, unread. Just performing with the mind and what has remained with her somewhere, astonishing".
"That piano is the little space in my small little room.. a space that I occupy on occasion.. spend time with keys black and white.. life is made of just these two they say.. but there are so many other colours too.. and they bring joy and a brightness in us as well," Amitabh Bachchan wrote.