Android users are now allowed to use Google Now for third party apps simply command. Google Now just got an update, allowing users to send messages by quoting "OK Google" on Android phone to favourite messaging services, which includes WhatsApp, Viber, WeChat and more.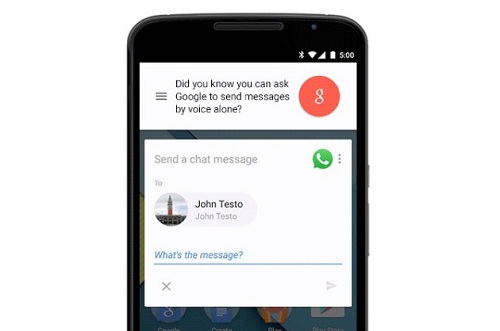 Google's Blog said this functionality is only featured English language initially (but not limited to the US) and will be working to add some other third-party messaging apps and languages in the future updates. Now the Android users by simply saying, "Ok Google send a WhatsApp message John: let's have some fun."
In January, Google updated its "Google Now" mobile application for Android to control third-party apps —initially this new functionality support 40 popular apps (which were partnered with Google). The service was updated back in April, by adding 70 more Google partner apps. In the past, Google developers introduced free app in a week. However, the app developers had failed and problems.
To get benefit with this new feature, Android user need to update with latest versions Google app and third-party apps (which the user want to use). If user outdated with old version, will get error message or group of results. Google company will soon introduces more features and share more about its Google Now. However, the Google yet to be announced when this functionality available for iOS app.