Mahesh Babu latest flick #Brahmotsavam released on 22nd May 2016. There is a huge following in south for Mahesh Babu, everyone was excited about the movie. After the release of movie, Like never before this movie got negative trending with hashtag #Flaputsavam and insulting memes on Mahesh babu in the social media. Recently leading newspaper Indian Express published an article which has hurted Mahesh babu fans.
First Read It : Indian Express Article On Mahesh Babu Brahmotsavam
Vasanth kumar the leading article writer of Indian Express was the person behind the article. vasanth kumar has been fired from the job and angry fans asked Indian Express to publish an official apology on front page.
Indian Express Today Article On Mahesh Babu Brahmotsavam May 25th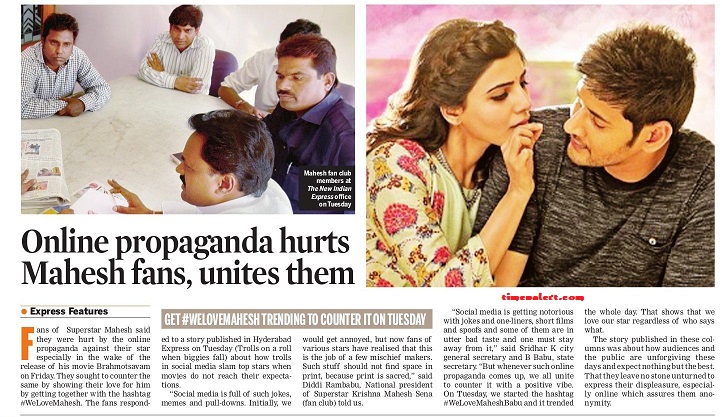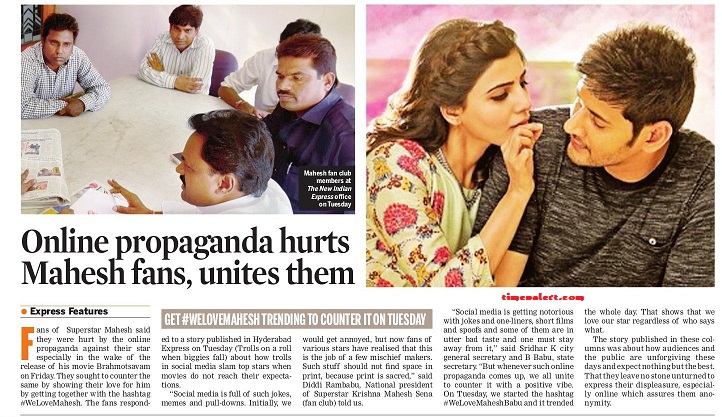 Mahesh babu fans took this matter to social media and show their displeasure and started supporting Mahesh Babu with hashtag #WeLoveMaheshBabu. Not only mahesh babu fans but all the fans of other stars are showing their support.
Indian Express Apologizes Fans for Floputsavam Article
Social media has become a platform for some notorious anti fans to insult the stars with memes, jokes, short films, spoofs. Some of them use really nasty comments. Mahesh Babu brahmotsavam movie was targeted by some anti-fans and started spreading negative talk across the social media.
Indian Express has published an article about Mahesh babu today 25th May 2016 and expressed their support on asked audience and public to get #WeLoveMaheshBabu trending.