Kareena Kapoor Khan has not only got fans through out nation but latest actors like Sidharth Malhotra, Ranveer Singh have already stated they are big fans of her. Recent addition to the list is Arjun Kapoor, who expressed his fandom with Bebo on the sets of Ki & Ka directed by Balki.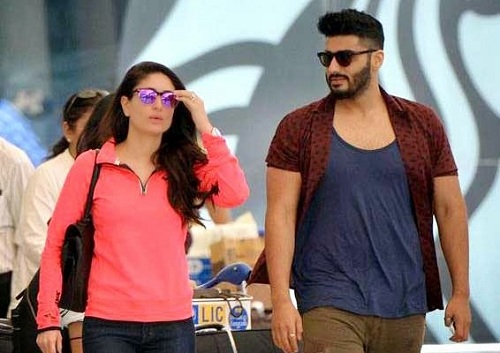 Kareena Kapoor accepts that Arjun Kapoor is true big fan of her since her debut movie Refugee. Arjun is rather mad than fan, he keeps on mimicking my movie dialogues on the sets. He comes with a new dialogue every day from my movies and says that he was trying to meet me since June 20,2000 when Refugee was released. Kareena says, Arjun has not missed any of movies right from Refugee to Bajrangi Bhaijaan. All the three famous Bollywood leading actors Sidharth Malhotra, Ranveer Singh and Arjun Kapoor have accepted that they are my biggest fans, I love their response and cheerful for their compliments, how ever varun Dhawan has not yet quoted anything similar. Arjun and Varun are my favorites, Varun is fan of Karisma Kapoor, reason might be she acted in many of her father David Dhawan's movies.
Kareena admits that Arjun is a true friend of mine, We hang out even after shooting. I was constantly chatting with Arjun over BBM, Saif used to say whom I was texting to and I would reply its my biggest fan, Arjun Kapoor. I was a huge fan of Arjun's mother Mona Kapoor, I admire her and her family. My husband also loves Arjun, because he know I'm fond of Arjun. Saif understands me better and also respects people who admire her wife.
Saif showers too much protection on me , "I don't know one day Nawab saab might just pick a gun and do something," kareena Khan says.