Global star Arnold Schwarzenegger best know as 'The Terminator' will make his Indian film debut with the sequel of Shankar's Rajinikanth starrer Robot. Arnold will be in India for filming with the movie crew as part of first schedule in the coming January to play the role of a rogue robot.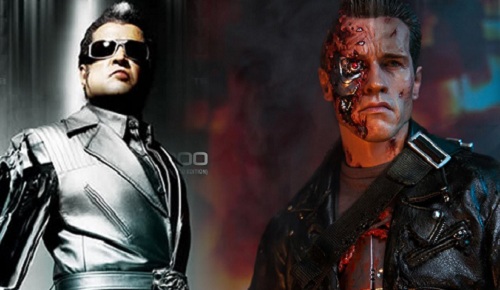 Robot was termed as the expensive movie ever made in Indian film history, until SS Rajamouli's epic blockbuster Baahubali broke all past records. Shankar is trying to creep back into initial position with the Robo sequel where Rajinikanth in the leading role of sci-fi drama. Arnold has visited the audio launch of previous Shankar's flick 'I' last year.
As per the initial source report Hollywood actor and former California Governor will stay in India for 25 days and will be involving in shooting along with Rajinikanth for Robo-2. Shankar has approached Aamir Khan and Deepika Padukone for other leading roles in the movie, Amy Jackson is one amongst other three heroines in the movie.
First part of Robo revolves around scientist and his robot Chitti who betrays him and the series of incidents. Shankar states that Robo-2 is not at all sequel of the story it is completely different. Robo-2 is a superhero film and a sci-fi adventure and small chunks of Ramayana have been obtained for the storyline.