Indian magnum opus film 'Baahubali-The Beginning' is creating sensations day by day and making headlines since its release on 10th July. Now it has broken the Guinness World Record for creating largest poster with more than 50,000 square meters . This record was achieved by Indian Global United Media Company Pvt Ltd for making such largest poster.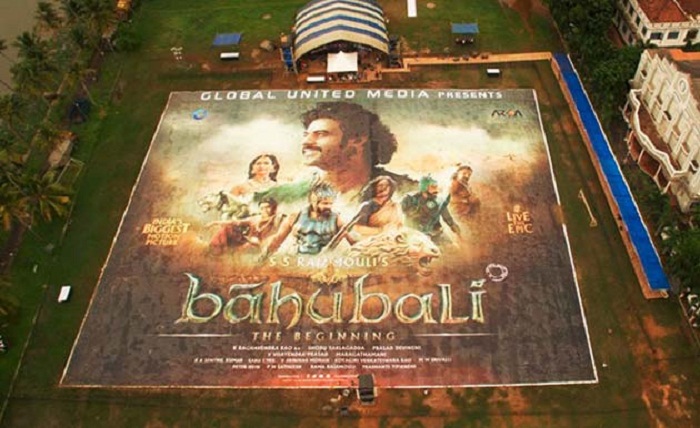 SS Rajamouli was extremely happy to know the news about Guinness World record and expressed his happiness through his Twitter account by sharing a link on the website. Rajamouli tweeted as,
"Now it is officially awarded.. Congratulations to Mr Prem Menon and his team at Global United media."
The declaration was made through reference book in Guinness World Records official website as,
"The largest poster has an area of 4,793.65 m² (51,598.21 ft²) and was achieved by Global United Media Company Pvt Ltd (India) in Kochi, India, on 27 June 2015."
The greatest monumental worked multi-lingual two part film is achieving milestones from time of its release. It is the most expensive South Indian film that collected Rs 50 crore on its first day which made biggest opening of 2015 and earned Rs. 200 crore within four days.
'Baahubali-The Beginning' features Prabhas, Rana Daggubati, Tamannaah Bhatia, Anushka Shetty amd Ramya Krishna in lead roles. Movie was taken in Telugu, Tamil where as dubbed in many other languages.