Gautamiputra Satakarni First Look Poster has been released on social media network one day before Balakrishna birthday and Gautamiputra Satakarni teaser trailer will be released tomorrow i.e on 10th June 2016 as Balakrishna birthday special gift to the fans. The most talked Nandamuri Balakrishna 100th Movie is launched on 22nd April (Friday). Large number of Telugu Film Industry celebrities are prone to attend the event for which a promising muhurtham was also fixed. As per film source, the movie creators are planning to come up with captivating idea for Natasimham Balakrishna 100th film launch. Coming to the concept, the film unit has geared up to invite all 99 Directors of Balakrishna's movies who ever available to attend the inauguration. All of them will be granted with honors during the launching event.
Balakrishna Gautamiputra Satakarni First Look Poster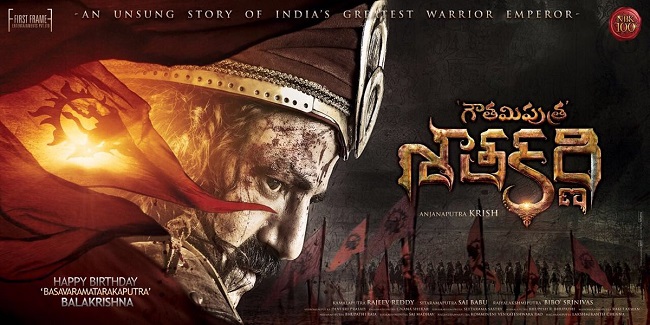 Bollywood Actress Hemamalini is to bounce back to Telugu Film Industry through this film after whole long career of 35 Years in Bollywood. She will be assuming the role of Balakrishna's mother in Gautamiputra Satakarni. B-Town Beauty Hema Malini will be seen in the role of Gautami Balasri ie., Satakarni mother in the film. The film Gauthamiputra Satakarni is to be directed by Krish who recently won  National Award.
In Tollywood Nandamuri Balakrishna one of the senior most actor who gained lot of achievement in litter span. Balakrishna clutched many prestigious project through out his cine career. The 100th movie of Balakrishna is based on the historical story of King Gautamiputra Satakarni who has enthralled whole India by ruling our nation. To deliver a blockbuster 100th film the actor had chosen this concept to straightly hit the audience.
Balakrishna Eyeing Oscar With 100th Movie 
NBK 100 Gautamiputra Satakarni First Look Poster
Couple of details were unveiled about this 100th movie during launch date of this film that took place on 8th April, 2016 on account of Ugadi Festival at Amaravati.
The 100th movie title of Nandamuri Balakrishna is 'Gautamiputra Satakarni' and this will be directed by well prominent director Krish who recently received National Award for his movie Kanche. As per reports, the regular shooting of this film will be initiated in the month of May, 2016. Meanwhile, Nandamuri Balakrishna was also growing his moustache in pretty different style which suits for his character in his 100th movie 'Gautamiputra Satakarni'.
Balakrishna Gautamiputra Satakarni Movie Trailer
As per recent news the Gautamiputra Satakarni movie is to launch teaser. The film makers are preparing to release this movie first teaser on 10th June, 2016 on the occasion of Nandamuri Balakrishna birthday.
Gautamiputra Satakarni Movie Diwali Special Poster