Several Hindu Organizations and crackers manufacturers has strongly objected in the supreme court for banning of crackers during Diwali, contending that it would affect the sentiment of Hindus.
A petition has been filed in the supreme court in name of three infants seeking a ban on Diwali Crackers, saying that this air pollution is causing choking in toddlers. The petitioners have asked the apex court to ban on the crackers as an immediate measure to reduce pollution and help the infants to breath better.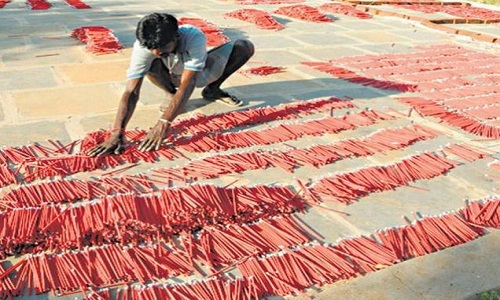 Now the court is facing mixed responses from different groups, and the centre is also indirectly supporting the organization's and crackers manufacturers saying that it is not the only cause for air pollution.
The fringe group from Sivakasi, Tamil Nadu said that crackers are burnt as a celebration for many festivals in the country such as Diwali, Christmas, New Year, Marriages etc and this cannot be prevented by an unfair restrictions.
A Hindu organisation, M/s Arulmigu Sri Ayyappan Sangam said that banning on Diwali fireworks would affect the tradition of Hindus.
Crackers Manufacturing Association said that it is providing employment for nearly 13 Lakh people either directly or indirectly, with a turnover of nearly Rs. 1,000 crore.
"Any adverse direction against the use of crackers during Diwali will have a disastrous effect on the entire fireworks industry and on the livelihood of lakhs of people," the petition read.
The court is going to hear the case today.