Lorry filled with granite boulder hits Bangalore-Nanded Express train at Anantapur district 6 dead many injured. Accident took place during morning 2:30 AM today after the truck exploded into S1 coach of Bangalore-Nanded express. Anantapur SI, S.V Rajasekhar Babu and district collector Kona Sasidhar rushed to the spot. Initial reports from the site conclude that truck carrying tonnes of granite boulder lost its control and rammed into the train. Around 25 people are reported injured.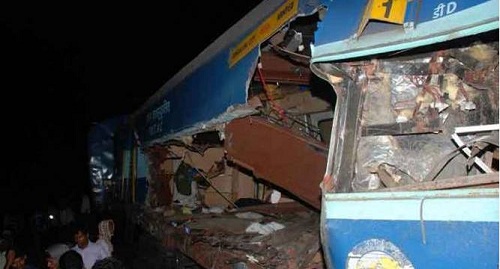 Karnataka MLA Venkatesh Nayak is identified as one of the deceased among 6 people reported dead. Truck destroyed railway gate between Rengapalli and Penukonda station and rushed into Bangalore- Nanded Express(16594). Lorry driver was drunk and driving the vehicle at uncontrollable speed. Collision caused derailment of four coaches and more than 30 people were injured in S1 coach, one of the Railway Ministry individual said. Identity of the deceased lorry driver is yet to be confirmed while others have been recognized as Syed Ahmed, Pulla Rao, VST Raju and a farmer from Karnataka. One more deceased is yet to be recognized as there are no identification details are available.
Railway Minister Suresh Prabhu tweeted,"Unfortunate accident. Loaded truck hit train.Condolences to families. Immediate medical relief sent.Injured treated. Ordered GM etc to rush.Ex gratia will be given to affected injured and dead."

"The boulder got deposited onto the S1 coach which has been the most damaged and accounted for all deaths until now except one, the truck's cleaner," said Mr Rajasekhar Babu.