Bangladesh Premier League 2016 Schedule
BPL T20 is back again this year with new and old teams. The Bangladesh Premier League which is also called as BPL, it is established by Bangladesh Cricket Board (BCB). The Bangladesh Premier League Twenty20 has first started in 2012 and completed three editions until now. The Bangladesh Cricket Board has now announced the 4th edition of BPL T20 which is going to start from 4th November to 9th November 2016. The board has released the BPL T20 2016 teams list and matches fixture schedule timetable.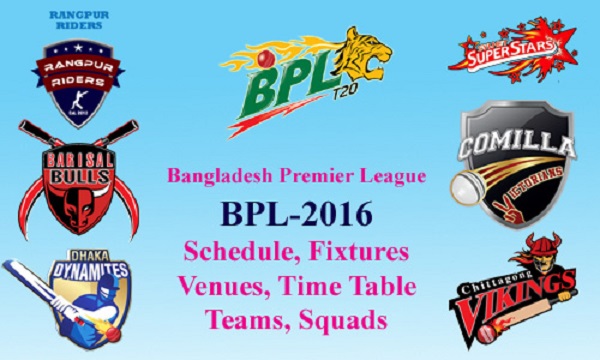 BPL T20 Live Streaming 2016
Here we have shared the complete list of Bangladesh Premier League 2016 Fixtures Teams lists and timetable on this page. All the BPL fans can check their favourite team match dates from here. We have given the BPL T20 live streaming link and also the TV channels list which have bought Match telecast rights. Check the below given tables to know about the Bangladesh Premier League 2016 Teams BPL T20 Fixtures Dates Time Table.
Bangladesh Premier League 2016 Teams List
Barisal Bulls
Rangpur Riders
Chittagong Vikings
Rajshahi Kings
Comilla Victorians
Dhaka Dynamites
Khulna Titans
BPL T20 Matches 2016 Venues List
Barisal Bulls
Rangpur Riders
Chittagong Vikings
Rajshahi Kings
Comilla Victorians
Dhaka Dynamites
Khulna Titans
Bangladesh Premier League 2016 Schedule Time Table
| | | | |
| --- | --- | --- | --- |
| Date | Time | Match | Venue |
| 04-11-2016 | 2:30 PM | Comilla Victorians vs Rajshahi Kings | Dhaka |
| 04-11-2016 | 7:00 PM | Rangpur Riders vs Khulna Titans | Dhaka |
| 05-11-2016 | 2:30 PM | Chittagong Vikings vs Barisal Bulls | Dhaka |
| 05-11-2016 | 7:00 PM | Comilla Victorians vs Dhaka Dynamites | Dhaka |
| 06-11-2016 | 2:30 PM | Rangpur Riders vs Rajshahi Kings | Dhaka |
| 06-11-2016 | 7:00 PM | Barisal Bulls vs Khulna Titans | Dhaka |
| 08-11-2016 | 2:30 PM | Dhaka Dynamites vs Barisal Bulls | Dhaka |
| 08-11-2016 | 7:00 PM | Chittagong Vikings vs Comilla Victorians | Dhaka |
| 09-11-2016 | 2:30 PM | Khulna Titans vs Rajshahi Kings | Dhaka |
| 09-11-2016 | 7:00 PM | Rangpur Riders vs Chittagong Vikings | Dhaka |
| 11-11-2016 | 2:30 PM | Comilla Victorians vs Barisal Bulls | Dhaka |
| 11-11-2016 | 7:00 PM | Dhaka Dynamites vs Rajshahi Kings | Dhaka |
| 12-11-2016 | 2:30 PM | Khulna Titans vs Chittagong Vikings | Dhaka |
| 12-11-2016 | 7:00 PM | Rangpur Riders vs Dhaka Dynamites | Dhaka |
| 13/11/2016 | 2:30 PM | Barisal Bulls vs Rajshahi Kings | Dhaka |
| 13/11/2016 | 7:00 PM | Comilla Victorians vs Khulna | Dhaka |
| 17/11/2016 | 2:30 PM | Chittagong Vikings vs Dhaka Dynamites | Chittagong |
| 17/11/2016 | 7:00 PM | Barisal Bulls vs Rangpur Riders | Chittagong |
| 18/11/2016 | 2:30 PM | Chittagong Vikings vs Rajshahi Kings | Chittagong |
| 18/11/2016 | 7:00 PM | Comilla Victorians vs Rangpur Riders | Chittagong |
| 19/11/2016 | 2:30 PM | Dhaka Dynamites vs Khulna Titans | Chittagong |
| 19/11/2016 | 2:00 PM | Chittagong Vikings vs Barisal Bulls | Chittagong |
| 21/11/2016 | 2:30 PM | Dhaka Dynamites vs Rajshahi Kings | Chittagong |
| 21/11/2016 | 7:00 PM | Comilla Victorians vs Chittagong Vikings | Chittagong |
| 22/11/2016 | 2:30 PM | Khulna Titans vs Rangpur Riders | Chittagong |
| 22/11/2016 | 7:00 PM | Comilla Victorians vs Rajshahi Kings | Chittagong |
| 25/11/2016 | 2:30 PM | Rangpur Riders vs Rajshahi Kings | Dhaka |
| 25/11/2016 | 7:00 PM | Barisal Bulls vs Khulna Titans | Dhaka |
| 26/11/2016 | 2:30 PM | Comilla Victorians vs Dhaka Dynamites | Dhaka |
| 26/11/2016 | 7:00 PM | Khulna Titans vs Rajshahi Kings | Dhaka |
| 27/11/2016 | 2:30 PM | Barisal Bulls vs Dhaka Dynamites | Dhaka |
| 27/11/2016 | 7:00 PM | Rangpur Riders vs Chittagong Vikings | Dhaka |
| 29/11/2016 | 2:30 PM | Comilla Victorians vs Barisal Bulls | Dhaka |
| 29/11/2016 | 7:00 PM | Khulna Titans vs Chittagong Vikings | Dhaka |
| 30/11/2016 | 2:30 PM | Rangpur Riders vs Dhaka Dynamites | Dhaka |
| 30/11/2016 | 7:00 PM | Barisal Bulls vs Rajshahi Kings | Dhaka |
| 02/12/2016 | 2:30 PM | Rangpur Riders vs Barisal Bulls | Dhaka |
| 02/12/2016 | 7:00 PM | Dhaka Dynamites vs Chittagong Vikings | Dhaka |
| 03/12/2016 | 2:30 PM | Comilla Victorians vs Khulna Titans | Dhaka |
| 03/12/2016 | 7:00 PM | Rajshahi Kings vs Chittagong Vikings | Dhaka |
| 04/12/2016 | 2:30 PM | Comilla Victorians vs Rangpur Riders | Dhaka |
| 04/12/2016 | 7:00 PM | Dhaka Dynamites vs Khulna Titans | Dhaka |
| 06/12/2016 | 2:30 PM | Eliminator (3rd Position vs 4th Position) | Dhaka |
| 06/12/2016 | 7:00 PM | 1st Qualifier (1st Position vs 2nd Position) | Dhaka |
| 07/12/2016 | 7:00 PM | BPL 2016 Semi Final Match | Dhaka |
| 9/12/2016 | 6:30 PM | BPL 4 Final Match 2016 | Dhaka |
BPL T20 2016 Live Streaming TV Channels List 
| | |
| --- | --- |
| TV Channel | Country |
| Channel 9 | Bangladesh |
| Neo Prime | India, Bangladesh, Pakistan, Sri Lanka, Nepal, & Subcontinental |
| GEO Super | Pakistan |
| MTV Sports | Sri Lanka |
| Premier Sports | United Kingdom |
| Setanta Sports | Ireland |
| Flow TV | Caribbean Islands |
| Orbit Showtime Network | Middle East Countries |
| ESPN | USA |
| Sports Max | British Virgin Islands, Barbados, Bermuda, Cayman Islands |