West Bengal government is to make freedom fighter Netaji Subhas Chandra Bose secret files public very soon. Kolkata police museum is to display 64 classified files hidden in police and government lockers. Several anticipated secrets on Netaji will be exhibited to public on Monday regarding the death mystery. 1997 reports revealed one of such intelligence file 8 months after the death of Netaji in a air crash on 18th August, 1945 at Taihoku in Taiwan, Mahatma Gandhi publicly announced he believe Netaji was alive.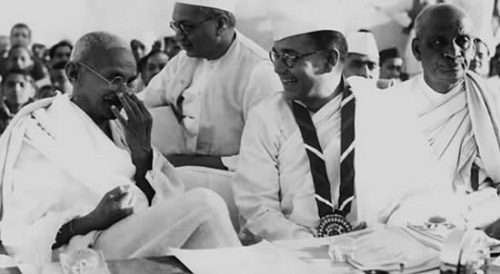 Four months later Gandhiji wrote an article 'No reliance can be placed on such unsupported feeling' in a prayer meeting in Bengal. The file dated 8th April, 1946 classifying Gandhiji feeling of 'an inner voice' but Congress people trust that its was based on secret information he received.
Intelligence file mentioned,
"There is a secret report which says Nehru received a letter from Bose, saying he was in Russia and that he wanted to escape to India… It is probable that the letter from Bose arrived about the time that Gandhi made his public statement."
Gandhi was sensing something about Netaji as he insisted Bose family not to follow shradh because there was a speculation over Subhas Bose's death, said Netaji's grand-nephew Chandra Bose.
Mahatma Gandhi wrote. "I believed the report. Later, the news was proved to have been incorrect. Since then I have had a feeling that Netaji could not leave us until his dream of swaraj had been fulfilled. To lend strength to this feeling was the knowledge of Netaji's great ability to hoodwink his enemies. These were the only reasons for my belief that he was alive. Therefore, I had nothing but my instinct to tell me that Netaji was alive. No reliance can be placed on such unsupported feeling. In the face of these proofs I appeal to everyone to forget what I have said and reconcile themselves to the fact that Netaji has left us".