Muslim Population has exceeded Hindu in three districts of Bengal,Murshidabad, Malda and North Dinajpur. This is the report according to the Census 2011 data on Population by Religious Communities which was released on Tuesday. Furthermore, in India the Hindu population has dunked by 0.7 percent in Bengal it is much higher than 1.94 per cent.
Identically, if the Muslim population has increased by 0.8 percent, in Bengal the growth has increased to 1.77 per cent.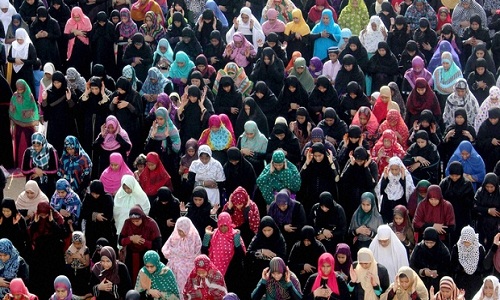 Out of 9.2 crore population in Bengal, Hindus population consists of 6.4 crore people and Muslim comprise of 2.4 crore population which is slightly higher than 2001 Census data.
According to the Census report 2011 the total population in Bengal was  8.01 crore out of which Hindu Population was 5.8 crore and Muslim population was 2 crore.
Three districts where the Muslims have crossout Hindus are (47 lakh Muslims; 23 lakh Hindus), Malda (20 lakh Muslims; 19 lakh Hindus) and North Dinajpur (15 lakh Muslims; 14 lakh Hindus).
Trinamool Congress MP Sultan Ahmed said, "I would like to interpret this due to the proximity of these districts to the Muslim-dominated districts of Kishanganj, Purnia and Katihar in Bihar. The BJP may cry itself hoarse raising the Bangladeshi immigrant bogey but had it been true, this would have been the picture in Nadia and North 24-Parganas, too." In North 24-Parganas, the country's most populous district with 10,009,781 people, Hindus account for over 73-lakhs and Muslims over 25-lakhs. In Nadia, Hindus account for 37 lakhs while Muslims 13 lakhs. "The incremental increase, which is in sync with the growth of population in Bengal buries the illegal migration theory, once for all," Ahmed asserted.
2011 Census
Total population in Bengal – 91,276,115Total Hindu population – 64,385,54633,046,557 (Males); 31,338,989 (Females)Total Muslim population – 24,654,82512,640,092 (Males): 12,014,733 (Females)
2001 Census
Total population in Bengal – 80,176,197
Total Hindu population – 58,104,835
30,069,503 (Males); 28,035,332 (Females)
Total Muslim population — 20,240,543
10,470,406 (Males): 9,770,137 (Females)