Several Political parties have criticized BJP Chief Amit Shah for his remarks that Diwali will be celebrated in Pakistan if BJP loses in the Bihar Elections, as an attempt to 'communalise' the elections as the party is "sensing the defeat".
Amit Shah while addressing a Rally at Raxaul said that if BJP loses election in Bihar there will be a celebration Pakistan. "If BJP loses Bihar elections even by chance, though victory or defeat will happen in Patna, firecrackers would be burst in Pakistan," he had said.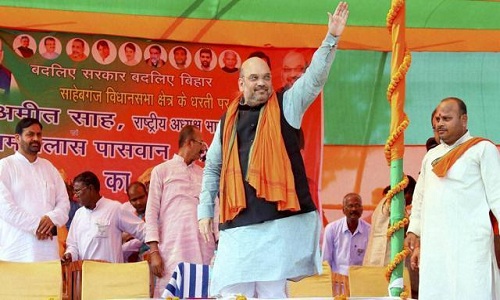 "With these remarks Shah has accepted that BJP has lost the assembly polls in the state. They were bound to lose in Bihar, which has a strong socialist base. Sensing defeat, he is now trying to polarise Hindus in the name of Pakistan. It is a highly irresponsible remark," JD (U) president Sharad Yadav said.
RJD chief Lalu Prasad Yadav said that BJP chief has insulted the people of Bihar with his remarks.
"Once again he has managed to insult the people of Bihar but this time it has gone below the belt," he told.
JDU leader KC Tyagi alleged that these remarks were insult to the Dalit and Backward people of the state and said that they will take the issue to the Election Commission and demand a ban against him from further campaigning in Bihar.
Congress asserted that Shah's remarks are the indication of the BJP of their imminent loss in the election.
"India will celebrate and burst crackers before Pakistan when the BJP loses and we will defeat them with all certainty. I can tell you for sure that we are defeating them right now," Congress leader Mani Shankar Aiyar told ANI.
Congress and Left parties took twitter to provoke BJP is already thinking of its defeat with two or more phase of the elections remaining.
"@AmitShah when you lose Bihar crackers will burst all over India. Stop communalising your certain defeat. #ShahInsultsBihar," CPI(M) leader Brinda Karat tweeted.
Former union minister P Chidambaram tweeted, "If BJP loses in Bihar, there will be celebrations and relief among many others – writers, scientists, historians and moderate citizens."