Indian Prime Minister Narendra Modi addressed that people should not believe in the rumours that our party is against reservations. Reservations are appointed by great leader Babasaheb Ambedkar and no one take them away. Our party has no second thought about the reservations as our oppositions have been provoking recently. RSS Chief Mohan Bhagwat had made statements in the past month reservation rules have to be reviewed once again. Bhagwat insisted that reservations have been used as political trends by parties there is a need to appoint a political committee to look over reservation commodities.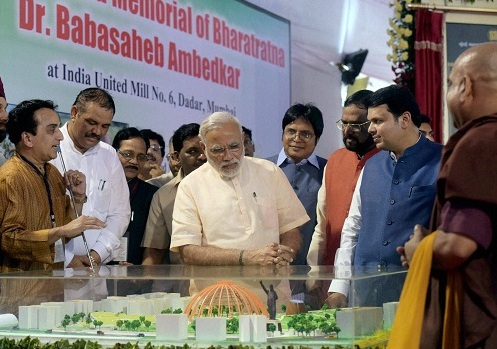 "Every time when a BJP government is in power, a group of liars spreads the malicious propaganda that we are out to scrap reservations. It happened during the Atal Bihari Vajpayee government's time as well. This rumour-mongering starts every time when elections are round the corner," PM Modi spoke at a meeting in Bandra.
"I have seen poverty. I have lived with it and there is a lot to be done for the uplift of the downtrodden of the society to whose betterment Babasaheb was committed," Modi added.
States which comprises of major population from Scheduled caste and tribes, OBCs have elected BJP party leaders in their regions which stands as an implication that our parties intention is to uplift those sects, Modi stated. They should be provided with proper reservations so that they can cope with society unless the nation's growth would be stagnant.
Narendra Modi has visited Dadar to furnish framework stone on the eve of Ambedkar's commemoration and praised him for designing Indian constitution.