Several BJP legislators in Jammu and Kashmir have attacked Sheikh Abdul Rashid on Thursday in the assembly for hosting a beef party on wednesday evening.
This incident took place immediately after the assembly begined at 10 am to discuss various bills including ban on beef. Several Leaders of National Conference and Congress have rushed to save the Langate legislator as he was being thrashed.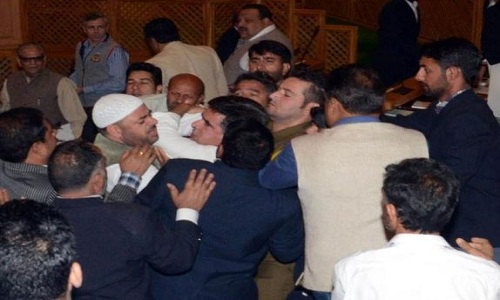 Sheikh Abdul Rashid has hosted a beef party on Wednesday evening at the MLA hostel where several guests have attended and they were all served with beef kebabs,'ristas' (meatballs) and beef patties.
"Nobody on earth, no assembly, no court and no institution can stop us from having what we want to have," Rashid said on Wednesday.

He also added that "no courts or legislatures can prevent the people from eating what they want". The party was "just to give them (legislators) a clear message that it hardly makes any difference whether you accept or reject the bill… religious matters cannot be kept subservient to courts and assembly".
Chief Minister Mufti Muhammad Sayeed while commenting on the incident said "Whatever happened in the Assembly is condemnable." He asked the BJP to express regret.
Deputy Chief Minister  Nimal Singh has also condemned the attack on Abdul Rashid "Everybody has right to put forth his view point…whatever happened in MLA Hostel is condemnable."
The beef row was first exploded when a division bench of High Court in Jammu has order government to implement a ban on beef. Many religious communities have called the court order as interference in religious matters and said that law should be abolished.