On Sunday controversial BJP politician Sangeet Som warned Uttar Pradesh government that it would need to pay price for favoring the Muslim community as he met the men's family accused for killing a villager over rumors that he slaughtered a cow. Earlier on a day Chief Minister Akhilesh Yadav raised the financial related help for Mohammad Ikhlaq's family about 20-45 lakh while authorities forced prohibitory orders in the village to foil any commula outburts. The MLA's comments added to the debate regarding the incident between political leaders.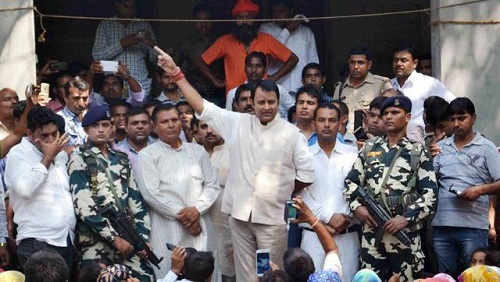 Ahead of lethal Muzaffarnagar uproar two years back, Som was accused for making provocative speeches in Bisada village that he would assist bail arrangements for those arrested over the mob killing of the 55-year-old victim an occurrence which has developed partisan worries in the state. The killing has driven more profound a wedge between the Hindu and Muslim groups in Bisada and neighboring regions. political eyewitnesses say, in front of the current month's panchayat polls in the state which that will also result 2017 assembly elections.
Hitting out at AIMIM leader Asaduddin Owaisi, BJP official said,
"The reported case from the village was a result of anger towards the Akhilesh Yadav government. Police have never made a move in the cases related with cow butcher. I appeal to the state government to stop abominations on pure villagers."
To ease sectarian pressures, around 100 Hindu residents of Bisada went to Ikhlaq's home and asked his family to not leave the village while expressing regret over the frightful act of a some youths. Authorities forced 144 section of the CrPC that prohibits the assembly of more than ten individuals in a zone, yet that did not stop people from the conservative Hindu Raksha Dal from meeting the accused families and distributing pamphlets in support country wise ban on cow butcher. Amid the most recent six days, police have arrested eight accused named in the FIR and questioned more than 30 people about the homicide case.