Central Bureau of Investigation(CBI) has filed a new assets case against former Telecom Minister A Raja and his subordinates and his family members as he mislead government funds worth Rs.27.92 Crores on their names. Chennai based CBI has issued FIR which proposed allegations of illegal money during the period of 1999 to 2010 which included his four ministerial terms at the Central and three terms as Lok Sabha Member.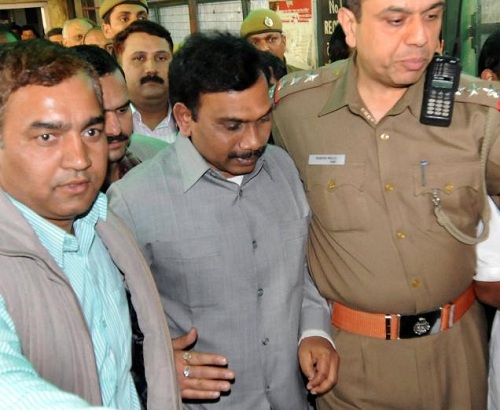 CBI inquiry stated that during his term as public servant all his known source of income cannot exceed Rs.2 crores. CBI is yet to collect further information from Income Tax department, Bills, Vouchers and Bank documents to conclude their probe over illegal money allocation during his term. Raja served as the Tele Communication Minister from May 2007-2009 where he tampered with 2G-Spectrum and CBI interrogated case during April 2011. CBI has interrogated 16 members who are prime accused in the case.
CBI's personnel Kanchan Prasad said,"Several of A Raja's close relatives and associates, and firms managed by them, had allegedly an exponential financial growth under suspicious circumstances and had acquired assets worth several crore of rupees without sufficient wherewithal during 1999-2010."
CBI sources confirms that they have filed new case against Ex-Telecom Minister, A Raja inquiring his probe in 2G spectrum allocation scam. Investigation department has gathered information from several sources after searching Delhi, Chennai and several parts of Tamil Nadu which led them to file a new case on Raja.