Central Ordnance Depot Jabalpur Recruitment 2016 : Central Ordnance Depot has delivered a official notification COD Jabalpur 117 LDC Mazdoor TMM vacancies, it going to appoint staff for LDC, Mazdoor, Fireman, Material Assistant, TMM, Tailor, Female Searcher, Vendor, Upholster, Turner and other posts. Online applications are asked from suitable aspirants for the achievement to the following Posts, there are total 117 positions. Job seekers who have eligibility as placed in the notification will register for these LDC and TMM posts. Interested aspirants can apply for these vacancies on or before twenty one Days from the issuance of Central Ordnance Depot Jabalpur Notification 2016. For more information scan below.
COD Jabalpur Recruitment 2016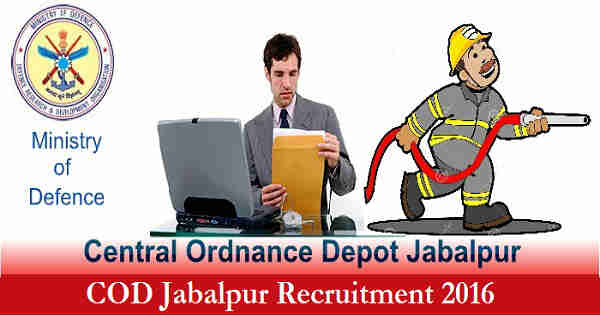 The Central Ordnance Munitions Depot (COD) was constructed in the late Thirties by British for the globe War II to combat the Japanese Invasion likewise on store arms and ammunition for the defence of metropolis. COD Jabalpur going to appoint staff for LDC and TMM posts in COD Jabalpur. For that it invites offline applications from searching candidates.
Central Ordnance Depot Jabalpur Notification 2016
Candidates are advised to approach COD Jabalpur organization page for registering LDC Mazdoor TMM Jobs through offline mechanism before closing date. Aspirants are advised to apply through Central Ordnance Depot main site. Candidates selection will be based on the Written Test, Physical Standard, Practical Test, these levels organized by the Central Ordnance Depot. Further complete data regarding COD Jabalpur Notification 2016 appellants visit organization official page.
Ahmednagar Municipal Corporation Recruitment 2016
Central Ordnance Depot Jabalpur Recruitment 2016
Organization Website: www.indianarmy.nic.in
Organization Name: Central Ordnance Depot
Category: Govt Jobs 2016
Name Of The Posts:
1). Lower Division Clerk(LDC): 17 Positions
2). Fireman: 08 Positions
3). Cook: 02 Positions
4). TMM(Mazdoor): 76 Positions
5). Tailor: 01 Position
6). Female Searcher: 01 Position
7). Vendor: 01 Position
8). Upholster: 01 Position
9). Turner: 01 Position
10). Material Assistant:08 Positions
11). MTS(Messenger): 01 Position
Number of Posts: 117 Posts
Location: Jabalpur, Madhya Pradesh.
COD Jabalpur TMM LDC Notification 2016 Eligibility Criteria
Qualification: For applying COD Jabalpur TMM LDC jobs aspirants must completed Intermediate or SSC or its identical qualification from any authorized institute.
Age Limit: Contenders above and below ages as 18 and 25 years, age relaxation clearly placed in COD Jabalpur Notification.
Pay Scale: Finalized contenders will get Rs. 5200-20200 with Grade Pay as Rs. 1900/-.
Selection Criteria:
Written Test
Physical Standard
Practical Test
Application Fee: Refer COD Jabalpur Notification file.
How to Apply COD Jabalpur LDC Mazdoor TMM Jobs 2016
Candidates apply COD Jabalpur Recruitment 2016 Mazdoor LDC TMM Vacancies through offline mechanism on before it's due date.
Address:
COD Department,
Post Box No-20,
Jabalpur, MP – 482001.
Important Dates:
COD Jabalpur Application process starts from 21 May 2016
COD Jabalpur Application process ends on : 10 June 2016
(Note: Further more details appellants see Employment news from 21 to 27 May 2016)
Important Links:
Central Ordnance Depot Jabalpur Notification 2016 : Click Here
Official Site : www.indianarmy.nic.in