Chakravyuha is a Kannada Movie co-written and directed by M. Saravanan having its release on 29 April 2016. This film is produced by Lohit NK under their production banner Sunshine Creations. The movie is produced by Lohit NK under their own production banner Sunshine Creations. This romantic action thriller features Puneeth Rajkumar and Rachita Ram and male and female lead actors. S.S. Thaman delivered power packed background score and soundtracks.
Chakravyuha Kannada Movie Review Rating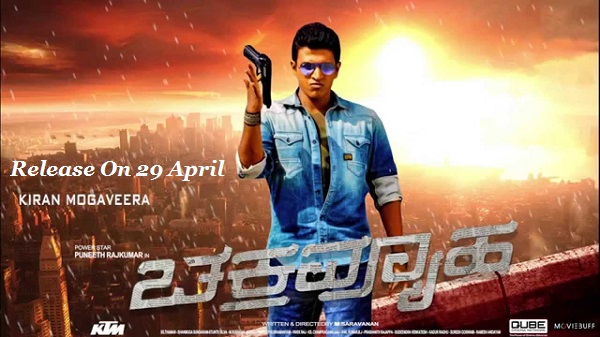 For super star Puneeth Rajkumar, young Tollywood actor Jr NTR sung Geleya Geleya song in the movie. The other most intgresting part of the film is, beautiful Tollywood actress Kajal Aggarwal sung Yenaithu song joining her voice with Puneeth for this movie. The Audio Launch and Theatrical Trailer Launch events were held on 17th March on the occasion of Puneeth Rajkumar's birthday.
Chakravyuha Movie Audience Response
Within 12 hours of time span, GeleyaGeleya fetched over 28,000 hits over YouTube. So the success of the song GeleyaGeleya generated much hype among the audience to watch Chakravyuha as two big stars from two film industries put hands together for the first time.
Rajinikanth Kabali First Look Teaser
Chakravyuha written and directed by M. Saravanan. Its is Produced by N K Lohith. S.S. Thaman scored the music for the film. Cinematography was done by Shanmugasundaram and Editing effects were given by M Subarak. Film has produced under Sunshine Creations. Kiccha Sudeep provided the Voice Over For Puneeth Rajkumar character in Chakravyuha.
Chakravyuha Kannada Movie Cast & Crew 
Director : M. Saravanan
Producer : N K Lohith
Writer : M. Saravanan
Starring: Puneeth Rajkumar, Rachita Ram, Arun Vijay, Sadhu Kokila, Bhavya, Abhimanyu Singh, Rangayana Raghu
Music : S.S. Thaman
Cinematography : Shanmuga Sundaram
Editor : M Subarak
Production company : Sunshine Creations
Release dates : 29 April 2016
Language : Kannada
Chakravyuha Kannada Movie Story
Actor Puneeth Rajkumar played a role of city born young man. The youthful hero blow up with storming anger every now and then. He gets annoyed with few of the incidents that happen around the society and the circle surrounding him. Then he turns up to an angry young guy. Actress Rachita Ram will be seen playing his love interest in the film. Story continues after falling in love with Rachita Ram. Later he teaches worthwhile lessons to the State Law Minister and his brother which forms the bottom line of the story.
Brahmotsavam Audio Launch Teaser Trailer Updates
Before its release, the movie gained profits through the distribution and audio rights of Chakravyuha which has been sold for an amount of Rs.14 Crores. Rachita Ram marked her debut pairing with Puneeth Rajkumar in Kannada as heroine. Tamil actor Arun Vijay has made his debut in Kannada as the Main villain.
Chakravyuha Review
Chakravyuha Movie Rating :3 /5
Chakravyuha Movie Audience Response
Chakravyuha Movie Twitter Review
Chakravyuha Movie First Day Collectios
Chakravyuha Movie 1st day Worldwide Collections