Thousands of Chennai Super Kings fan has taken the city by storm in accordance with BCCI ban of IPL team. Many expressed their interest to see Chennai team playing in next season of IPL, fans flooded on to the streets and signed a petition to forward to BCCI and Supreme Court. Fans rallied near Wallajah Road wearing yellow jersey some even painted their skins. Fans from through out the state gathered near M.A Chidambaram stadium, Chepauk to participate signature signing campaign to allow CSK team to be lifted from allegations and allow to play in IPL.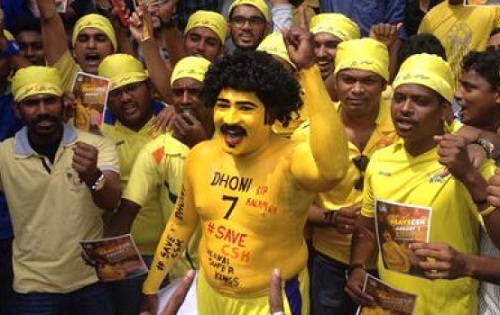 The Guy who all painted yellow is H.Sarvanan, crazy fan of CSK and M.S Dhoni expressed his anguish how badly fans wants their favorite IPL team back in action. Saravanan said he has been following CSK team for eight years now, I cannot digest Courts judgement over imposing 2 years ban on CSK team. We are just requesting none of our activities are to protest against Courts orders.
Fans all around Tamil Nadu are collecting signatures to show their support towards CSK team and the same will be forwarded to BCCI and Supreme Court. We will do everything whatever we can to see our home team back in action.
The petition plea forwarded to BCCI and Supreme Court is as follows,
"Please let Chennai Super Kings participate in the forthcoming IPL seasons by removing the suspension against them. There is no evidence of match-fixing against the team and none of the players have been found guilty of any wrongdoing. Why should the team be suspended? Over the past eight years, the team has become an integral part of Tamil culture and has won the hearts of millions of cricket fans, not just within the State but also from across the country. Please don't penalize the team for the wrongdoing of one individual."
Yours sincerely, Fans of Chennai Super Kings.