Chuttalabbayi Movie Trailer: Upcoming Telugu movie Chuttalabbayi is going to release first look teaser on 25th June 2016. Music of the film is expected to launch by the end of July. 90% shooting was completed and the team is busy in editing. Chuttalabbayi movie is currently in production stage and the actors are giving dubbing to their characters. The film Chuttalabbayi is directed by Veerabhadram Chowdary, who earlier directed "Poola Rangadu" movie. Producers for this film are Ram Talluri and Venkat Talari. The movie is completely a family entertainer drama having Aadi and Namitha Pramod in lead roles.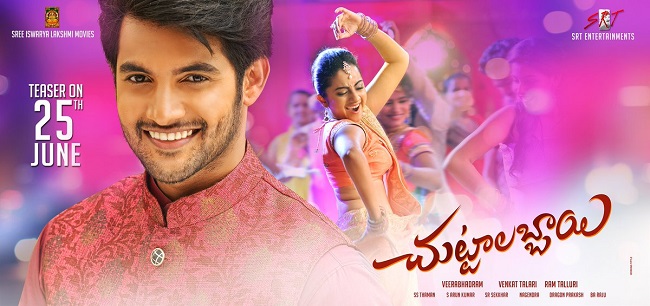 Chuttalabbayi Trailer is scheduled to launch on 25th June 2016. Music for this film was composed by S.S Thaman. We see Posani, Shakalaka Shankar, Prudhvi, Brahmanandam in the supporting roles. Negative role is played by John Kokken and we also see Sai Kumar in special role. Chuttalabbayi tea, has completed maximum part of the shooting and are ready to launch the movie in few days. The locations in the film are mostly shooted in Rajahmundry and songs are shoot in some parts of Bangkok.
Oka Manasu Movie 1st Day Collections
Aadi Chuttalabbai Movie Official Trailer
Post production work and Dubbing phase for the movie Chuttalabbai has recently started. Aadi is now sharing the screen space with new actress Namitha Pramod. The film Chuttalabbai is going to be a completely family entertainer, where all the age groups can watch and enjoy. Veerabhadram is taking the direction part. Hoping this movie hit the theaters in a big way. The movie is working under the banner SRT and Sri Aishwarya Lakshmi Movies.
In Chuttalabbai Aadi will be seen in the role of recovery Babji which will entertain the audience. Sai Kumar is seen in an special role in the movie. In the female lead role we see Malyalam actress Namita Pramod as a new entry. The movie team is planning to launch the music in middle of June. Firstly they are going to launch Chuttalabbai teaser on June 25th 2016. After completion of post production, they announce the actual date of when the movie is released. Chuttalabbai movie is expected to release in the month of August.