Delhi BJP municipal officials on demanding to release funds today organized a protest outside the residence of Chief Minister Arvind Kejriwal. Many councilors and Mayors of each of the three municipal corporations, Ravinder Gupta (North), Subhash Arya (South) and Harsh Malhotra (Mayor) assembled outside Kejriwal's residence and raised trademarks protesting non-payment of pay salaries to the MCD sanitation workers who have been taking a shot at a contract for over 10 years.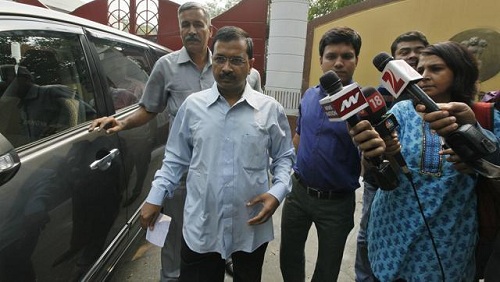 The Municipal sanitation workers have propelled an uncertain strike since last Friday, demanding payment of long pending levy, auspicious payment of salaries and general employment for those taking a shot at contract. The Delhi government and MCD have been involved in a fight over funds throughout the previous months a while with the recent demanding a bailout from the Delhi government, claiming their funds have been shortened.
East Delhi Municipal Corporation Mayor Harsh Malhotra said,
"Municipal Reform Fund of all three municipal corporations which is now approximately Rs 1322 crore should be released immediately as it is already allocated in the budget of Delhi government. Also, we demand release of Rs 1179 crore pending as the global share of all the three corporations."
Kejriwal on Friday, in a public letter to the general people, had guaranteed that his government was not responsible for strike of municipal workers. Delhi government expressed that it had no part in the approaching garbage emergency as the municipal corporation was not under its managerial domain.