Education does not always provides the complete knowledge to achieve some thing, We have encountered many situations where people with no education have proved they could achieve any thing if the is interest and strong will.  Its the Practical Knowledge we achieve from our day to day life that give us more knowledge than mugging up the books in closed rooms. Today we are going to share one such instance where a class three pass out form Assam Builds his Own Helicopter.
Class Three Drop Out Welder Builds His Own Helicopter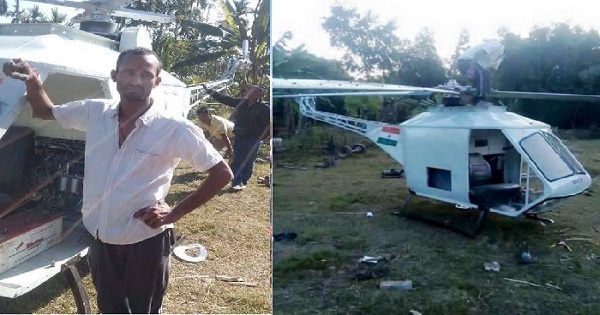 Chandra Siwakoti Sharma of Dimow village under Dhemaji district in Assam has succeeded in Building an helicopter all by himself in his backyard. It Took almost three years to complete 90 percent of his work. All this three years he kept his work as an secret. He worked day and night in a closed room assisted by his wife Jonmony Mayank.
Assam Welder Builds Homemade Helicopter
Being an Uneducated he took up welding as his profession, As the years passed by his showed up his interest in building an helicopter. As a proverb says Necessity is the Mother of Invention proved true in case of Chandra Siwakoti Sharma also. During Floods and Natural calamities the village need to to connected to Shyamjuli a village 450 away with Main City Guwahati
Also Read : Akrit Jaswal World's Youngest Surgeon From India
Indian Welder Builds His Own Helicopter
Initially after expressing his thoughts of building an helicopter, every one made fun out of him, But he proved they were wrong. Sharma named the Helicopter as "Pavan Putra" and it took around 15 lakh expenditure to build 90 percent It could fly around 50 kmph.