KCR is the Real Hero which was proved once again with this present act.He has a huge fan following among all groups of society in Telangana. KCR is currently talked about in Telugu Filmnagar for his genuine legend acts. Cine artist 'Pavala Shyamala', who has fame through playing the character of Sangeetha's mother in the movie "Khadgam" get financial assistance from Telangana government cultural department.
CM KCR Grants Rs 10,000 Pension To Help Senior Artist Pavala Shyamala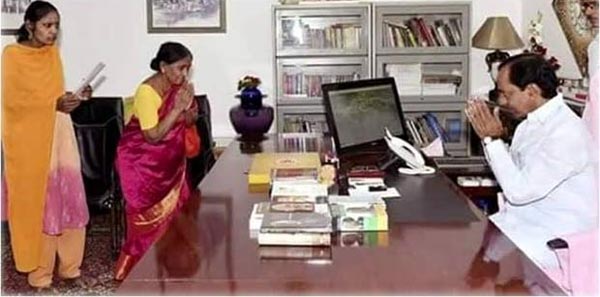 A Telugu daily e-paper "Namaste Telangana News Paper" published a news that performing artist pavala shyamala is in critical situation of financial needs, she wanted to meet KCR for the issue of Aasara Pensions besides Telangana govt 2bhk house plan. The news turns into a web sensation through online and by media lastly achieved Chief Minister kalvakuntla. Chandrashekar Rao attention.
KCR Helps Telugu Artist Pavala Shyamala With Pension
On 17th January 2016, pavala shyamala met KCR at camp office and asked for help. With an awesome humankind, KCR instantly subsidized rupees 20,000 financial related help along with month to month 10,000 rupees Pension under the cultural department of Telangana. KCR advised cultural department Director Mamidi Harikrishna to give Pension along with 2 BHK house for her to live. This is the way KCR is presently real hero and motivating identity for youth. KCR is the Real legend Says Pavala Shyamala to media.
Also Read : Pawan Kalyan Pays College Girl's Fee
Pavala Shyamala Receives Rs 10,000 Pension 2BHK Flat
Born in Amravati, she lives in Hyderabad. She acted all over 51 Theater Artiste and appeared as supporting artist in more than 20 Films in Telugu film industry. She acted in Suswagatham Movie With Powerstar Pawan Kalyan. Earlier Pawan Kalyan promptly given 1 lakh rupees to help her financially depositing the money in her account. Pawan helped her for having Medical Health issues. Finally the Senior actor Shyamala is happy to have help from KCR Govt.
Also Read : Brahmotsavam First Day Collections