Congress party has issued legal notices to Union Minister Smriti Irani for favouring illegal land dealings under Rajiv Gandhi Trust. Smriti ferociously taunted Rahul Gandhi recently at his home town Amethi, she has won 2014 Lok Sabha elections over Congress vice-president.
Smriti Irani addressed locals of Amethi at a meeting, If congress party or Rahul Gandhi assume women in the country are helpless, they should change their mindset. I will not take any of their words and stand still to speak about Amethi. If any of their party leaders or Rahul Gandhi himself has the courage to put me behind bars, I will react rather than keeping silent. My relation with Amethi people is beyond elections.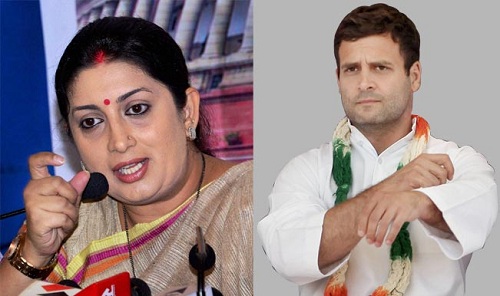 Irani said, "Yesterday, an advocate came to my Delhi residence when I was busy in a meeting. He has given a notice that he will take legal action against me if I make any comment against Rahul Gandhi or the Nehru-Gandhi family in Amethi."
Union Minister was reportedly shocked to receive such as notice from Congress leader, another BJP leader Ravi Shankar Prasad has also taunted Congress weakness. Smriti has received a legal notice in accordance with illegal allocations of lands under Rajiv Gandhi Charitable Trust from Amethi farmers. Congress personnel has stated they had no other option rather than filing case against her, allegations stated that her actions were 'false and malicious'. Smriti's meeting venue was filled with banners protesting Rahul Gandhi, she concluded her meeting to raise Siksha Mitras urges in front of centre. Government will be looking into the issue where at least 1.72 lakhs Siksha Mitras in Uttar Pradesh are struggling for job regularisation in the state.