Shaiva Militant group, Juna Akhara has crowned title of Mahamanaleshwar(High Priest) on a woman calling herself as 'Radhe Maa' was booked for advicing a family to torture a woman. Immediately Radhe Maa's followers took over
Facebook to support in her controversy. Godwoman was later charged of provoking six individuals to commit suicide and was taken into custody by Ahmedabad police.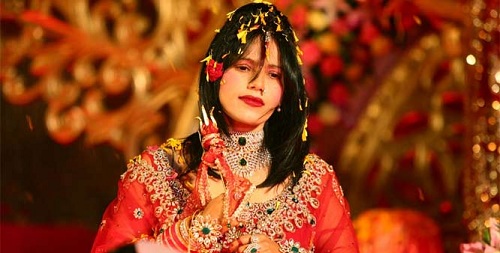 Incidents were related to allegations from Gujarat's Kutch area, where the six deceased people donated everything they had to Godwoman and case will be handled by Mumbai Police reportedly. Mumbai Police is about to issue summons on Radhe Maa after she recorded her statement in accordance with dowry case. A 32 year old woman approached police after Radhe Maa provoked her in-laws to demand dowry by torturing her.
DCP Dhananjay Kulkarni said, "Radhe Maa, who was out of Mumbai for the last few days, returned to the city today. We will first issue summons to her, after which her statement will be recorded ".
Reportedly police has issued FIR against Radhe Maa and other supporters last week and have also issued summons on Inquiry.
Mukund Pawar, senior inspector of Kandivali police station said, "Police has so far issued summons to six persons, including the in-laws of the complainant. However, summons had not been served on Radhe Maa, who the seventh accused in the case".