Cricket fans pronounce him as 'God Of Cricket', Sachin Tendulkar has shared his memories and stated that sports has guided my life in right spirit. Game is not all about winning and losing, there were numerous occasions I failed to perform well. It doesn't mean end of everything but those failures have made me strong enough to stand tall and compete in the right spirit. Sachin Tendulkar visited as chief guest at Isha Gramotsvam grand finale organised by Isha Foundation's.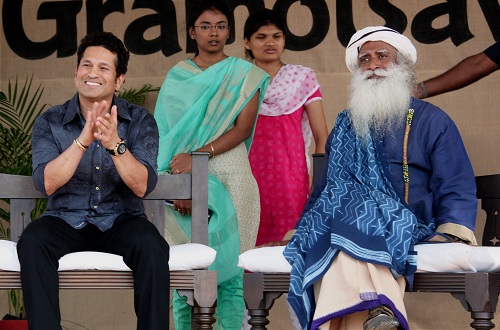 Sports has taught me everything in my life, It has shown me how to get focused and disciplined. Sports is the means of leading happy life and gives a reason to smile even. Who ever I'm today standing in front you and smiling sports is the reason behind, Sachin said while addressing at Isha Gramotsvam sporting event.
Isha Gramotsvam event consists of volleyball, throwball, Kabaddi and Pole climbing games for rural men and women. Sachin Tendulkar has even asked the foundation to organise such sporting events at Puttamraju Kandrika, a village in Nellore district of Andhra Pradesh.
Sachin Tendulkar stated that,"Engaging in sports helps the community to come closer and stay tighter in difficult times. Sports teaches you on team work, which can never fail. If you apply it in your day to day life, most of the problems will be solved."