'Deepika Padukone' and 'Ranbir Kapoor' are excited and looking forward for their new film 'Tamasha' release after a huge success of "Yeh Jawaani Hai Deewani." It seems Deepika enjoying each moment on sets of 'Tamasha'. Recently she disclosed her fun nature through her Twitter uploading a funny video with co-star Ranbir Kapoor.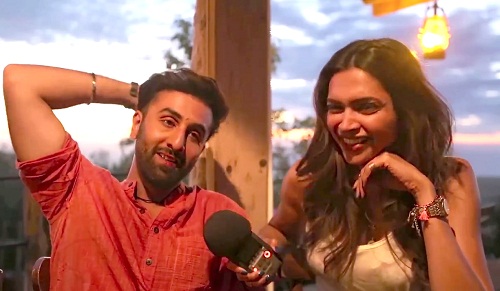 Recently Deepika came up with a video of her and Ranbir while they where shooting at Corsica for their film. Video contain Deepika Padkone poking Ranbir Kapoor to promulgate the managing works of their film to social media where as Ranbir staggers and totter around the way.
Ranbir and Deepika requested all their fans to follow social media sites of their upcoming film 'Tamasha' but Kapoor do not have any idea about those platforms. Deepika made fun of her ex-boyfriend Ranbir who doesn't have any idea about Twitter, Facebook and Instagram as he is not active on social media. Padukone took it to Facebook and captioned 'Clearly out friend here doesn't know much about social media! #Tamasha27thNovember.'
As per earlier reports film is setback because producer Sajid Nadiadwala is not satisfied with out come of few shots so they desire to re-shoot few scenes again. Instead of opting France, Corsica, the actors executed their re-shoot in India to save production cost for film.
In one recent interview Kapoor said, "Audience will see me in November. They were not ready to see me in my last three films, so I am hoping that when promo and song of 'Tamasha' will come, audience will like it. The trailer of 'Tamasha' will be launched on September 21, or 22, and my birthday is on September 20."