Delhi Aam Aadmi Government is keeping its promise by projecting every class in each school with CCTV surveillance and has already tested the same in some institutions recently. Electronic surveillance introduction was planned with an intention to monitor teachers attendance rate and also examine the behaviour of students in the school premises. States Deputy Chief and Education Minister, Manish Sisodia has inspected various schools in Delhi like, Sarvodaya Bal Vidyalaya, Gokhle Marg, Mori Gate and Rajkiya Sarvodaya Kanya/Bal Vidyalaya, East Vinod Nagar to witness the changes the new method has brought in institutions and among students.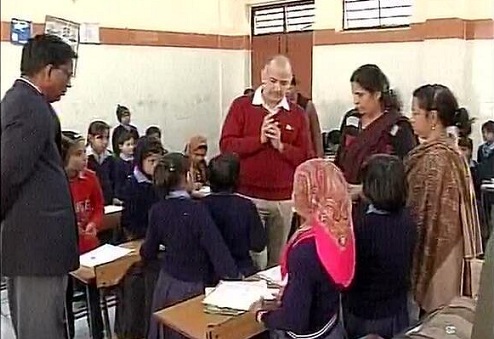 Government firm called, Delhi Integrated Multi-Modal Transit System Ltd (DIMTS) has provided CCTV equipment for Mori Gate School in July. Another private firm has installed cameras at a school in East Vinod Nagar. Government has ordered the school's to relent of CCTV footage's to take attendance and monitor students. A microphone is also integrated with CCTV which sends signals if it hears continues silence, implicating absence of teacher in class can be identified.
When all the schools in the state are fitted with CCTVs, all the class rooms and Laboratories will account for at least 70,000 units across Delhi. Only the school principal will be having control over the system, however government will be having the prime authentication for each and every CCTV in each classroom of the state.
Scholars are keen about the facilities provided to electronic surveillance at schools and the total expenditure required for doing so. One of the kid at an institution has said that, teachers can no longer beat us and I am happy. A student spoke to Sisodia, Our belongings wont be disappearing from now. Cheating in examinations can also be minimised and can benefit teachers in every sense. Teachers were reluctant to this idea and opposed government's initiative. Parents might also get an access to the footages after a short while where school management committee will authenticate them.
Some students are worried about CCTVs, we can no more have been between the classes and cannot eat even. Some other students said that we can focus our studies as someone would be watching us. Another kid says that these cameras cannot stop us from having fun. High Definition CCTV could cost not less than Rs.5,000 and maximum up to Rs.50,000 even. Cameras theft can also be considered as a major issue in some schools, government should ensure security.