Activist 'Yogendra Yadav' who raised his protest for farmers was dragged by police personnel this morning when he tried speaking to media after they confined him whole night in their custody. When Mr. Yadav started speaking hardly he and his adherents were pushed away by police officers at the Parliament Street police station where he was imprisoned.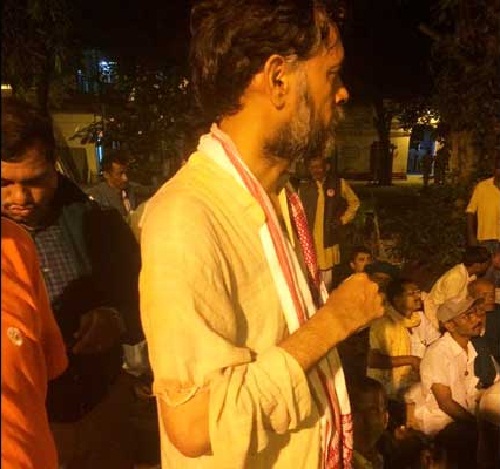 Tweeting a picture of himself with ragged sleeves providing as proof, the 51 year old activist who was ousted last year by ruling BJP claimed he was manhandled and beaten up at the police station.
His formner Aam Aadmi Party (AAP) colleague, Delhi Chief Minister Arvind Kejriwal tweeted,
"I strongly condemn the treatment meted out to Yogendraji by Delhi police. They were protesting peacefully. It is their fundamental right."
As soon as Mr. Yadav found police issued charge on farmers, Yadav and lawyer-activist Prashant Bhushan along with Swaraj Abhiyan rushed to the site of where they organized a peaceful protest. He claimed that he was taken to police station in their police van beside other radicals.
Mr. Yadav was heading the protest from Haryana, Rajasthan and Punjab against proposal of government to make changes in their way of farm land obtained for groundwork projects. They held a tractor protest on Sunday night at Delhi meanwhile police restricted the tractors entry into the city. The protest continued till Jantar Mantar of New Delhi.
Some of the tweets of Yogendra Yadav,
"I have been beaten up, manhandled, dragged, pushed and arrested at the parliament street police station."

"All of us, 96 in all, are now being arrested. But what's the crime, I wonder."

"I have been dragged, hit and pushed into a police van. Don't still know my crime."

"Is standing peacefully with a Hal an offence? We were not obstructing traffic, were willing to cooperate with any reasonable condition."